Facts About the Cervical Cancer Vaccine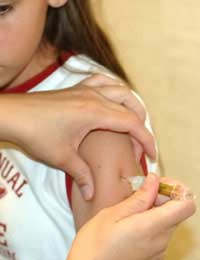 An immunization has just become available that can prevent cervical cancer in young women. The vaccine protects girls from the age of 12 from catching the Human Papillomavirus (HPV) when they become sexually active. This virus infects the cells of the cervix and causes changes that can lead to cancer. This happens over a period of years but, if a girl becomes infected in her late teens, she can develop cervical cancer in her late 20s and early 30s. If caught early, the cancer can be treated quite effectively but if it is not diagnosed until at a fairly late stage, it can be fatal. The celebrity Jade Goody died of cervical cancer in her late 20s in 2009.
The HPV Cancer Link
HPV is a common virus that causes genital warts. It is transmitted from person to person during sex. In men, it simply causes genital warts but it women it can also have more serious effects on the cervix, causing the cells to grow abnormally. This is more likely to happen with specific strains of HPV that are known to be associated with cancer. Regular smear tests pick up the pre-cancerous changes that HPV causes but these are routinely done in women over 25 – and the damage can be done long before that if a teenage girl contracts HPV.
The Cervical Cancer Vaccines
Generally it is easier to produce effective vaccines against viruses than bacteria or parasites but this is the first time that a vaccine against an infectious virus has been developed to prevent cancer. It is therefore quite a unique vaccine. Two types of vaccines are available, from two different manufacturers; Gardasil and Cervarix. In the UK, the government has chosen Cervarix and this has now been used to vaccinate all girls in their early teens, through a national school-based immunisation programme.
The cervical cancer vaccine is given in three doses, the second one a month after the first and the third one 6 months later. It is now being given to all girls up to the age of 18. Immunity to the HPV virus prevents it infecting the cells of the cervix and prevents it causing pre-cancerous changes.
Will the Vaccine Save Lives?
The evidence suggests that it will, which is why so much funding has been put into rolling out the vaccine nationally in the UK, a move that is also in progress in many other countries in Europe and the rest of the world. About 1000 women die of cervical cancer every year in the UK and the vaccine should cut this number down significantly in the future.
Is the Vaccine Risky?
As with any medicine or vaccine, there is always a risk that a small proportion of people will have an adverse reaction to it. It is also common for a new vaccine to be linked with health problems and deaths that occur coincidentally. The UK media reported the death of a girl a few days after she had her cervical cancer jab and this caused a bit of a scare. It was later found that she had a massive tumour in her chest that had gone undetected and had caused few symptoms, and this was the cause of death. She would have died whether or not she had the HPV vaccine.
Will Smear Tests Be Redundant?
Even when the vaccine for cervical cancer has been in use for several years, and most women have been covered, it will still be important to go for regular smear tests. These are done every three years in the UK and every woman in the country is invited to attend her GP to have a smear test. HPV is one cause of cervical cancer but it is not the only cause. Some women will still develop cancer of the cervix that is completely unrelated to the HPV virus. Some will never have been infected. For those women, the best chance of survival is to be diagnosed early and to have effective treatment quickly. As cervical cancer causes few symptoms, if any, in its early stages, a smear test is the only way to make sure your cervix is healthy.
You might also like...