Why Women are at Risk of Deep Vein Thrombosis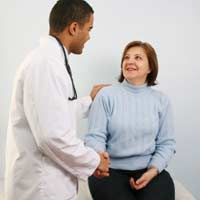 Due to the complications that may arise from developing a deep vein thrombosis (DVT) is a potentially life-threatening condition that requires urgent medical attention.
It is caused when a blood clot develops in the deep veins usually in the lower leg. This clot can prevent blood flow from travelling through the leg and disrupt the circulation in the limb, but more seriously it can dislodge and travel to the major organs which can be fatal.
The most common cause of fatality linked to a DVT is to suffer from a pulmonary embolism which occurs as the clot works its way to the lungs and interferes with breathing.
Why Are Women More At Risk?
Women are considered to be more at risk of suffering from a DVT for many reasons. Pregnancy is known to be a risk factor, especially after delivery of the baby. Your midwife will always ask you if you have had any pains in your legs at all in the days after the birth.
The contraceptive pill is also known to increase the risk as well. Those taking the contraceptive pill should be aware of the symptoms of a DVT and stop taking it immediately and seek medical advice if any symptoms are experienced. It is also advised that the contraceptive pill is not taken in the weeks before an operation, especially if it is being performed as an in-patient and immobility for a few days or even weeks is likely.
Women are also more likely to carry extra weight than men and obesity is also known as a risk factor.
Signs & Symptoms
The most common symptoms of a DVT include pain, swelling and tenderness of the lower limb, although it is possible to get a DVT in the upper limbs also so be aware of these symptoms in other parts of the body too.
The affected area such as the calf muscle may also become red and emit heat as the tissues become more engorged with blood collecting in the vessels.If you have any symptoms of breathlessness ring an ambulance immediately.
Treating DVTs
If you have any of the symptoms of a DVT please seek medical advice as soon as possible to avoid any of the possible complications.The immediate treatment for a DVT is to assess and treat any complications that may have arisen from the clot becoming dislodged such as in pulmonary embolism or if it has travelled to the brain.
Following this, medicines will be given to help dissolve the clot. These medicines are designed to thin the blood allowing it to flow more fluidly.Following the immediate administration of the drugs, the patient will usually be given similar oral drugs to take at home for several months. These drugs have a dramatic effect on the blood so regular blood tests will be needed to check that the dose is right for each individual.
Preventing a DVT
DVT formation can usually be prevented by taking a few precautionary measures. The risk can be significantly reduced by ensuring that you are actively mobile. Do not stay in one position for too long as the blood flow will slow and may collect and coagulate in the vessels allowing clots to form.
If you are finding that you are less mobile than before, take an aspirin once a day as this helps to keep the blood thin. Always take aspirin with or after food to reduce irritation to the stomach.
If you are in hospital or taking a long haul flight, invest in some compression stocking as these can save your life. Always make sure the correct size is bought for your leg size and shape; ask your nurse or doctor to asses your size.
When driving long distances, stop every two hours and have a short walk and a drink. Small amounts of movement are just as effective as athletic exercises and fluids will help keep the blood volume sufficient which helps keep it thin.
If you are taking the oral contraceptive pill you might be more at risk, if you are worried talk to your doctor who will advise you on alternative contraception if required.If you have had a DVT in the past you should not take oral contraceptives and an alternative method should be found.
Also try and lose some weight if your body mass index is out of the normal range.
A deep vein thrombosis can be a serious event and will require medical assessment. It is strongly advised that weight is kept within a healthy range, regular exercise is taken and mobility is restored as quickly as possible following surgery or when unwell. Learning some small but effective foot and ankle exercises will also help to prevent DVTs occurring when travelling by air.
You might also like...