How Does Osteogenesis Imperfecta Affect Pregnancy?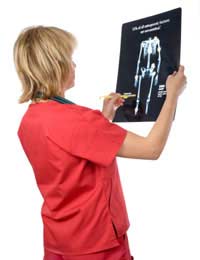 Osteogenesis imperfecta, also commonly known as brittle bone disease, is a genetic disease that affects the bones. It is due to mutations in one of the genes that code for collagen, an important structural protein in the skeleton and in connective tissue. The symptoms and problems it can cause vary; some mutations cause little effect on bones but in the most severe cases, the joints are weak, curvature of the bones and spine can develop, fractures occur throughout life, growth can be restricted and the teeth and even lungs can be affected.
Men and women are affected equally and people who have osteogenesis imperfecta can live well into adulthood and can and do have children. For women with this genetic condition, pregnancy can pose a few challenges because of the changes in the body that affect the skeleton.
Osteogenesis Imperfecta in Pregnancy
OI is a relatively rare condition so there is very little information available about the range of effects that it can have in pregnancy. Doctors and midwives are often inexperienced in caring for a pregnant woman with OI, and referral to a specialist early on may be advised.
One of the normal effects of pregnancy on the body is that the hormones produced make the joints 'looser'. This is a mechanism that has evolved to allow the pelvic bones to become more elastic to allow the baby to pass through them during birth, without breaking. Further weakening of bones and joints in a woman with osteogenesis imperfecta aggravates her condition, even if she has a mild form of OI. Joints can become painful and it can become difficult to walk and move. It is important to visit a dentist throughout pregnancy, as the impact of pregnancy hormones on the collagen in the gums can cause the teeth to become loose.
Most at risk of difficulties in pregnancy are women who are more severely affected, and who are shorter than normal height. They may be more at risk of a caesarean when the baby is born.
Heart and Lung Problems
In women who have marked curvature of the spine, the increase in size of the baby as pregnancy progresses can result in her not being able to breathe well. The space for the lungs is already smaller than normal and the baby presses upwards, causing more pressure. In some cases, a pregnancy may have to be ended, or an emergency delivery carried out as the mother's life may be in danger.
Pregnancy and Broken Bones
Although the evidence is relatively scarce, the information that we have suggests that women with OI don't suffer from more frequent fractures in pregnancy compared to any other time of life. A difficult birth can lead to fractures, however, particularly if the baby is large, or forceps or other methods to help the birth need to be used. Once the baby is born, it takes a few months for the hormones and the bones and joints to return to normal and women with OI need to take special care during this time to avoid falls and bumps.
Babies Born with Osteogenesis Imperfecta
A pregnancy can also be affected by OI if the diagnosis is in the baby rather than the mother. Until the birth, there is no way to really know the extent of the disease in the unborn baby. In very tragic cases, the baby may live for only a few hours; the effects of OI are so severe that they do not support life. In other children, OI may cause fractures and problems during childhood, but the extent and frequency of these depends on the mutation and how severe the OI syndrome turns out to be. Around 35% of children with OI are born to parents who do not have an obvious mutation, so it is not always possible to have genetic tests to predict whether OI will be a problem in subsequent children. The mutation can be a spontaneous event that affects only one child.
If tests do show that you or your partner have a genetic background that makes it likely that other children will be affected, it is possible to either opt for IVF with pre-implantation diagnosis, or to have an amniocentesis test during a later pregnancy. The difficulty with the second option is that you may then face the decision of whether to carry on with the pregnancy or not; support and counselling should be available to help, but this will still be a heart wrenching choice.
FEMALE HEALTH ISSUES IS FOR SALE.
This website is for sale [more info].
You might also like...