Pain Relief During Labour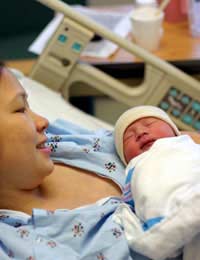 This is a subject that many women fear, but there are many choices available to pregnant women and you will usually be given choices and control of your pain relief through labour and delivery.
Entonox - Commonly known as gas and air this breathable substance is made up of oxygen and nitrous oxide. It is the most common form of pain relief and available in all delivery rooms. Entonox can be used on an as required basis, usually as the contraction begins until it has eased. It is administered through either a mouthpiece or as a mask (though this is less common) ands requires the patient to breathe in deeply and exhale. It causes the user to feel dizzy and physically unbalanced but this effect is short acting and will subside very quickly.As it contains a high level of oxygen it is beneficial to both baby and mother and can be used under your own control.
Epidural – An epidural is an injection given into your back using a long but very fine needle. The needle is placed between the spinal vertebra into the space before the protective sheaths of your spinal cord. Using the needle as a guidewire, a fine tube is passed over the shaft of the needle following which the needle is removed. The tube is fixed in place using tape and is usually fixed in the shoulder region. Using a combination of drugs, similar to those used for local anaesthetics, the anaesthetist will slowly inject the substance into the space.
The effect can be almost immediate and causes a loss of pain and often sensation to the lower half of the body. The amount of drugs given may be controlled either by staff administering it through the tube, or via a pump that will give a small dose every few minutes.
New techniques have allowed for the use of 'mobile' epidurals in which lower doses are given which provides the patient with continued mobility. This does not mean you can go out and about when it is in situ, but allows for gently movements which can aid delivery.
Pethidine – Pethidine is a very potent drug that acts as a pain killer and an anti-spasmodic which help with relaxation. It can be given by injection or using a fixed cannula and tube which are linked to a machine that you will have control of. This is called A PCA machine and can give almost constant top-ups of the drug but will not allow for, overdose.As it can cause nausea and vomiting it is often given with an anti-sickness drug.
TENS Machine – This technique is excellent for those who do not want to use any drugs or chemicals during the labour and birth. TENS stands for Transcutaneous Electrical Nerve Stimulation and uses electrical impulses delivered through strategically placed pads, which help block the pain signals to and from the brain and also encourages the release of endorphins which are naturally produced chemicals that give us the 'feel good' factor.
If you are having a Caesarean section you may be offered to have your epidural topped up which will provide adequate cover to allow the surgery to go ahead and provide some pain relief afterwards.
If you already have an effective epidural in situ, it is common for this to be used.Spinal anaesthetics are similar to epidurals in that they are injected into the back, but are administered into a slightly different part of the anatomy. They work very quickly and provide almost total numbness of the area. It is common to be able to feel movement on your skin, but you will not feel any pain.They can also be used if a Ventouse delivery is suggested.
General anaesthetics are usually given if the procedure is an emergency and time is of the essence, if the patient has specifically requested it and understands the risks involved, or if the spinal anaesthetic has not been fully effective.
Pain relief in labour is often a great concern of pregnant women but there are many choices available to help through the labour. It would be unrealistic to envisage that the entire labour will be pain free but using a combination of techniques it should be manageable for most of the labour.Always speak to your midwife about any concerns or to discuss your options who will be able to give a more detailed explanation and hopefully put your mind at rest.
FEMALE HEALTH ISSUES IS FOR SALE.
This website is for sale [more info].
You might also like...