Tummy Tucks Explained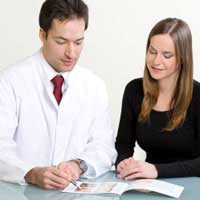 Otherwise known as an abdominoplasty a tummy tuck is a major surgical procedure that is used to try and improve the appearance and texture of the lower abdomen. During the surgery the excess skin and fat is removed and the skin closed leaving a flatter abdomen but with a noticeable scar.
Who Benefits From an Abdominoplasty?
Many people can benefit from a tummy tuck including those left with a saggy tummy following childbirth, those who have lost a great deal of weight quickly, those with long heavy stretch marks and those who have a protruding tummy that diet and exercise will not shift.It is important to ensure that you no longer wish to carry any further pregnancies as this can rupture your scar and be quite dangerous.
It is also advised that a healthy diet and exercise lifestyle is adopted as weight gain may also cause problems.An abdominoplasty is a major operation that requires a lot of consideration as the recovery period can be long, the scarring can be quite extensive and lifestyle must be changed to maintain the overall effect.
During The Procedure
Before your tummy tuck procedure you will be asked to stop taking your contraceptive pill for at least 6 weeks and use an alternative form of birth control. It is also recommended that you refrain from smoking for this period or preferably give up altogether. These measures are to try and prevent the incidence of blood clots that may endanger life.
The operation is performed under a general anaesthetic and usually involves your navel being separated from the abdomen using a circular incision and protected ready to be placed in its new position later. A large incision around your bikini line is made followed by the excess tissue being dissected away from the muscle.
If the muscles are damaged or need tightening this is performed now. The excess tissue is removed and the upper incision line is pulled down and fixed to the lower side. It is then stitched firmly into place and a cut made for the repositioning of your belly button.
You will be bandaged quite tightly to provide support and will often be put into a bed that is bent in the middle to prevent stretching of your new shape whilst the initial healing takes place.It is common to have wound drains in situ to allow any excess fluid to drain and to indicate if any internal bleeding occurs. It is also likely that you will have a urinary catheter in place to allow your urine to drain away whilst you are recovering and top prevent the movement from going to the toilet upsetting or opening your wound.
The scars will fade over time and often only the scar around the navel is visible as the lower scar can be underneath your clothes or underwear.Whilst recovering it is essential that you move your legs and feet regularly and stretch your leg and arm muscles when able to prevent blood clots and stiffness.
Are There Any Risks?
As with all surgical operations, there is a risk from the anaesthetic along with risks of bleeding, infection, poor scarring or damage to the internal organs. These are not common and can be treated in most cases.
Is The Operation Available Through The NHS?
It is not very likely that the NHS will fund this operation unless it is part of a reconstructive treatment of because of severe disfigurement.There are many good clinics that can perform this operation privately and can be contacted following discussion with your GP who may be able to suggest the most suitable option for your needs.
Tummy tucks are a cosmetic procedure but are very invasive and not without risk. Always make sure you are fully informed of the details of the operation before consenting to the procedure.
You might also like...
I have been living with my stretch mark scarsfrom pregnancy for 7-8 years, I had my first adorable son when I was 16. I believe that's why my scars are so bad and are much more visible the more weight I lose. Mybreast have always been very difficult to handle and I haven't had breast since I first got them as a teenager they are mainly skin and I feel like my skin appears much more older then is should.. I would like to know the best way to help these issues as I don't know if surgery would help me long term as I don't want a short term fix. Thank you!
Shan
- 11-May-20 @ 11:42 PM