Breast Feeding Facts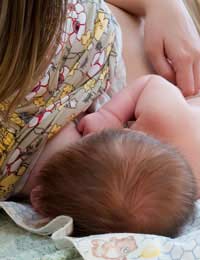 Breastfeeding was once the only method of feeding babies and is considered to be the safest and most beneficial way of providing fluid and nutrition for a growing baby.
Benefits of Breast Feeding
The benefits of breast feeding are widely documented and research continues to provide strong evidence regarding the advantages of breast feeding.It provides an excellent way of bonding with your child and spending some quality time together establishing your relationship in the early weeks and months.
There will never be an equal substitute to breast milk which is specially created for maintaining the health and nutrition for your baby.
Breast feeding is also excellent for building up the baby's immune system as the anti-bodies in the mother are passed well through breast milk and can help protect the baby from infections and childhood disorders.
The sucking mechanism on the breast is very different to sucking on the bottle and creates less build-up of pressure in the tiny tubes connecting the ear, nose and throat so there is less chance of an ear infection developing which are very common in young children and babies.Breast milk provides excellent cover against the development of childhood diabetes, which is steadily on the increase in modern society; it also reduces the chances of childhood asthma.
Along with all the benefits of breast feeding to the child, there are also plenty of benefits for the mother. Not only does breast feeding help protect against breast and ovarian cancers it also burns off calories so the excess weight that is often gained during pregnancy is shed a lot quicker than those that bottle feed and diet.
Can All Babies Breast Feed?
Most women can breastfeed, though there are some conditions that prevent breastfeeding from being advised. These are included below but do not include all conditions that can affect breastfeeding.In western civilisations where there are good standards of hygiene and bottle preparing facilities it is not advised that women with HIV breast feed. There is a chance of transmission of the virus from mother to baby.
Many women with cancer often wonder whether they can breastfeed; the answer is yes they can as long as they are not currently receiving chemotherapy or radiotherapy. It is also not advised that treatment is postponed in order to breastfeed a child as a bottle fed child will fair much better in life than one with no mother.
Babies with cleft palates will usually be able to breast feed as long as they are put straight to the breast. These babies may lose milk into their nose which can cause them to cough but providing they are given plenty of opportunity to try and clear their passages they are normally fine. Your paediatrician will advise you if breastfeeding is not the best option for your baby.
If you have a history of hepatitis it is generally assumed that you can breastfeed. As your baby will have been exposed to the virus during pregnancy they may well be immune to it when born. In the instance of hepatitis A, treatment is available for both mother and child.
Women who have had breast implants will normally be able to breast feed unless they have had nerve supply compromised from the incision. It is not known if they are able to breastfeed until they try. Your midwife will be able to tell you if you are producing any milk.
How do I Know If My Baby Is Drinking Enough?
Very obviously if the baby is producing plenty of wet or soiled nappies (around 7 a day) he or she is getting enough fluid and nutrition. Most babies, especially newborns will want feeding fairly often, sometimes as frequently as every two to three hours. The length of time between each feed will extend as the baby gets older. They will also be putting on weight steadily, about 100-200g a week.
Another sign that your baby is hydrated enough is to observe their skin and lips for signs of dryness. Sometimes the fontanel (the soft spot on the top of your baby's head) can start to sink in slightly when dehydrated.
Making The Most Of Breast Feeding
To ensure successful breast feeding it is important for the mother to be comfortable and relaxed. A nice softly lit room can be very soothing and calming for both mother and child. Try and feed your baby in a quiet atmosphere away from hustle and bustle. Use this time for bonding with your child and building up trust. Look into each other's eyes and allow baby to explore your face.
Breast feeding is the most natural occurrence in the world and should be encouraged by everyone.
You might also like...