Lymphoedema: Treatment and Support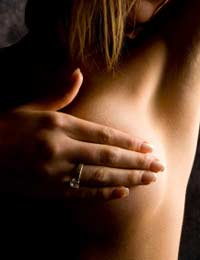 After having surgery for breast cancer, which may remove some of the lymph nodes under the arm, one in five women find they are prone to lymphoedema, usually in the arm on the same side of the body as the surgery. Lymphoedema is abnormal swelling of the tissues, and it results from poor drainage through the lymphatic vessels. These usually carry tissue fluid back to the heart but lymph node surgery that is carried out as part of breast cancer treatment can cut some of the lymphatic vessels at the top of the arm.
Preventing Lymphoedema
Lymphoedema can start straight away after surgery, or it can come on later. Key events make swelling in the arm more likely – if you get an infection in the skin of your hand or arm, for example, the normal response is inflammation. Usually this is very limited because the lymph vessels take away the excess fluid very quickly. If your lymph drainage is poor, even a mild infection after a scratch can make your arm balloon, which is painful and distressing. Many women who have come through breast cancer treatment find lymphoedema too much to cope with; it inhibits their activities and social life and reminds them constantly of their physical limitations.
Preventing lymphoedema becomes a matter of daily life. It is important to avoid any chance of infection – take care when playing with a cat, wear gloves when gardening and cleaning, use an electric razor to shave under your arms rather than a bladed one. It is also important to avoid getting sunburned on the affected arm and to prevent any undue pressure on it. Carrying heavy bags on that arm can be a problem, even wearing a watch or bracelets can become uncomfortable.
Many women find that if they are able to concentrate on building a healthier lifestyle – eating plenty of fruits and vegetables, avoiding processed foods rich in sugar and salt and keeping alcohol to a minimum, this also helps. Exercise, such as walking or swimming is also good.
Treating lymphoedema
If arm swelling does become serious and painful, you will need to see your GP who can refer you for specialist help. The main treatments involve wearing a compression elastic sleeve to support the tissues of the arm. You will probably also be given special exercises to do while wearing the stocking. An expert in massage for people with lymphoedema may need to perform manual lymphatic drainage. This is not ordinary massage and you can't get MLD at a beauty parlour, for example. It can only be done by a trained nurse, who gently manipulates the arm to push the excess fluid back into the main part of the body, where the lymphatic system can take care of it.
Sometimes, bandages that stretch are used instead of compression elastic sleeves. To get the maximum benefit, it is important to wear these as and when recommended. Lymphoedema treatment is not a quick process and it can take several weeks to notice a real improvement in symptoms.
Support for Lymphoedema
The inhibiting aspects of lymphoedema and its development during a time when you will be feeling better after your breast cancer surgery and treatment can be a big blow. This is now widely recognised and there are many national and local support groups, who can help support you as you learn to cope with lymphoedema. Your GP surgery should be able to put you in touch with a group near where you live, and you can then contact them to see what support they can provide. You can also search for groups yourself on the internet. Cancerhelp UK has a useful list, and there is a national Lymphoedema Support Network.
You might also like...