Breast Tumours Explored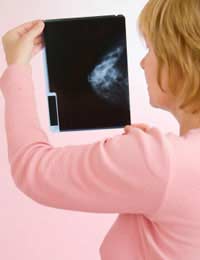 Women everywhere dread the day they find a breast lump in case it is a malignant tumour. For many though, these lumps can be harmless changes in tissue or cysts, but for others unfortunately it may be their worst fear.
Benign Breast Lumps
Benign breast lumps are still called tumours even though they are not cancerous. Any collection of cells that gather together may be referred to as such.There are several reasons as to what these types of tumours are.
Fibroadenomas – These are very fibrous lumps made up of glandular tissue and are most commonly seen in women under the age of 35 and can often feel quite mobile when they are examined.
Fibrocystic changes – These lumps develop as a response to hormonal changes in the body. The tissue and glands can become enlarged during the cycle and may appear and disappear over the month. As they are related to hormonal levels, they are not frequently seen in post menopausal women unless they are taking some form of hormonal medication.
Intraductal Papillomas – Although they may not be pleasant, these wart-like clusters can appear around the nipple area sometimes causing a discharge to be emitted by the nipple itself.
It is important to report any lumps in the breast to your GP who will usually order some further tests to determine the origin and type of lump. Although these tumours are not yet cancerous, they may need removing as consequent frequent examinations must continue as they may cause the woman to have a predisposition to breast cancer.
Malignant Breast Lumps
Early Breast Lumps
– Sometimes these tumours can be felt during a manual examination, or can be detected very early be attending mammogram screening techniques. They are most commonly sited in the upper outer corner of the breast sometimes extending into the armpit area, and are usually related to the mammory ducts.Early tumours although small, may have been developing over several years, but with advancing treatments survival rates continue to improve.
Advanced Breast Tumours – This form of malignancy usually involves a tumour that has grown to the extent of incorporating the lymph glands of the armpit, neck and other areas of the chest.
Disseminated Breast Lumps – This type of malignancy is cancer that has spread to other areas of the body known as metastasis and can involve the bones, brain, reproductive system or other organs.
Breast lumps that are found to be malignant will often involve the use of surgery, chemotherapy or radiotherapy and often a combination of any of the three.Surgical options may include removing just the breast lump and a small sample of tissue from around it to ensure no cells have started to spread, or by removing the entire breast.It is also common to have some of the glandular and lymphatic tissue taken from the armpit area, either as a clearance or just a sample.
For those who have had radical surgery and lost most or all of their breast, there are some excellent reconstructive procedures, or prosthetic materials that may be suitable which can be discussed either before the operation or after and a plan can be made after treatment has finished.
Breast cancer survival rates continue to increase as research and screening procedures develop. It is essential to examine your breasts ands understand their feel and appearance in normal circumstances in order to be able to identify any changes.If you do find a lump, remember that it might not be serious but you must get a medical opinion anyway.
You might also like...