My Manicure Went Wrong: Interview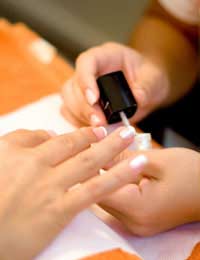 FemaleHealthIssues interviewed Nikki, a 37-year-old hairdresser to find out why she will never have acrylic nail enhancements again.
Why did you decide to have a professional manicure?
Nikki: As a hairdresser in a busy salon my hands are on show all the time and having raw, chapped skin and ragged nails doesn't exactly project the right image. It is important to create the impression that we, the staff, take as much care about our appearance as we do about our clients. But the big problem is that I have my hands in and out of water all day and my skin is constantly exposed to strong chemicals, despite trying to wear gloves as much as possible. My nails were always a mess, so I thought acrylic nails would be ideal.
Where did you decide to go for your manicures?
Nikki: A new nail salon opened up a couple of streets away from where I work and a friend of mine was given vouchers for a manicure for her birthday. Her nails looked fantastic, she had nail art and everything. Because the nails were acrylic, they were really strong and the nail art and colourful nail polish lasted for a whole week or 10 days even before it started to look a bit worn at the edges. It was my birthday coming up, so I asked for some vouchers from my mum and from my husband.
Did things go wrong from the very beginning?
Nikki: No, I was really pleased with the new set of white tipped nails that I had first of all. The manicurist used a system in which she put a white tip onto each finger, which she then cut to size. She then she coated my nails with a solution and then I dipped each finger into a white powder two or three times. She carefully filed and buffed my nails and then gave them a coat of shiny clear polish. They looked fantastic and I felt really good and I had plenty of compliments from customers on my new look.
So, when did you realise something was not right?
Nikki: As I was not having a coloured polish, I only had to go back once every fortnight for a refill – as my nails grew, the acrylic nail topping moved up my nail, leaving a gap in front of the cuticle. The manicurist filed my nails and then applied the same solution and I re-dipped each finger in the white powder to fill in these gaps. After buffing and shaping each nail, the manicurist applied the clear polish again and my nails looked perfect again. The third time I went, I had a coloured polish applied and loved the bright red look. It was a week or so after this appointment that I noticed two of my finger ends felt a bit sore...
What happened at your next appointment?
Nikki: When the manicurist took off the red polish we were both horrified to find that the two nails that had become painful had turned green. They looked awful. I was in tears.
Why were your nails green?
Nikki: The manicurist was very experienced and knew immediately that I had developed a fungal infection under both the nails. I had to soak my nails in acetone for 20 minutes to remove all the acrylic and she carefully filed my nails using files, which she then threw away. I felt awful because she had to disinfect her whole work desk afterwards so the infection couldn't be passed to other customers. She gave me an anti-fungal ointment to apply each day for two weeks.
What caused the problem - had the manicurist made some sort of mistake?
Nikki: After I had calmed down, the manager of the nail salon explained to me what had happened. Although a fungal infection can sometimes develop after acrylic nails are applied if the manicurist introduces a bubble of air under the nail tip that provides the ideal environment for the fungus to grow, she was pretty sure this hadn't happened in my case. The manicurist who had done my nails had years of experience and it was very rare for one of her clients to suffer a nail infection.
My problem was my job. Hairdressers are apparently very prone to getting tiny hairs under the tip of the nail, forming an entry point for water and fungal spores. It's an occupational hazard even when you don't have acrylic nails and I have had sore fingers before. So, reluctantly, I have had to abandon the idea of having long acrylic nails, but I still go for a regular manicure now each week and my natural nails look a lot better for it.
FEMALE HEALTH ISSUES IS FOR SALE.
This website is for sale [more info].
You might also like...