Prevention & Treatment for Bunions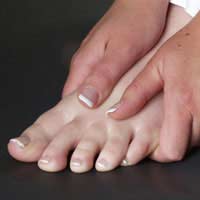 Bunions are known medically as Hallux Valgus and are a deformity of the joint of the big toe. A typical bunions will look as if the big toe is bending inwards towards the second toe and sometimes can overlap the second toe.
The actual term bunion refers to the protrusion of the bone sticking outwards from the joint.
What Causes Bunions?
A bunion is most often caused by a build up of pressure in the joint. This pressure can occur as the body weight is directed to the front of the foot, commonly caused by wearing inappropriate or ill fitting footwear. This explains why women are more likely to develop bunions than men.
Also contributing to this is the fact that the ligaments supporting the joints are often looser than those in men allowing for the deformity to occur more easily.It is also possible that arthritis can cause a bunion as the joint becomes inflamed and swollen again pushing the joint out of alignment.
How To Prevent Bunions
Preventing bunions is a matter of careful foot wear selection. If you are comfortable in heels or feel you have to wear them for job purposes, try and limit the time they are worn. When possible, remove shoes and allow the pressure in the foot to decrease.
When choosing shoes try and avoid pointed toes or those that squeeze the digits together.Tall or larger ladies often have a wider foot than others and many shops now stock a wider variety of shoe widths.
Treatment Options For Bunions
Treatment can begin at home by stopping wearing restrictive footwear. There is also the option of using some protective material around the joint. Many shops and chemist stock a variety of padded cushions or supportive bandages that can help alleviate the pressure and encourage the joint to remain straight.
If you suffer from arthritis see your doctor who can advise you on which medications will help to reduce inflammation and discomfort.A chiropodist may be able to help reduce the pressure build up by recommending some exercises that can help to strengthen the joints and muscles in the foot. They can also help to treat any callus formation that is likely to occur.
The use of splints and braces can be used by some which are often worn at night or in the shoe. These can be discussed with your orthopaedic specialist or a chiropodist.For those with particularly troublesome or very prominent bunions surgery may be an option. There are several surgical procedures that can be performed in order to treat a bunion and each person will be assessed individually and the most appropriate form of surgery recommended.
It usually involves the joint being operated and the bunion removed or shaved. The bones will then be held together by a metal pin or screw.Mobility of the joint may be permanently affected but the bunion and the associated discomfort will be alleviated.
The operation may be carried out under general or local anaesthetic depending on individual circumstance and will you will usually be required to wear a padded and bandaged dressing for a few weeks after the procedure.
Treatment for bunions may be non-invasive and possible to achieve at home, or may require invasive surgery to correct the deformity.It is always best to try and avoid a bunion form developing if possible, or at least minimise the damage by taking extra precautions in the early stages of development.
FEMALE HEALTH ISSUES IS FOR SALE.
This website is for sale [more info].
You might also like...