Polycystic Ovary Syndrome Explained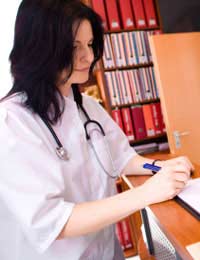 Many women who are trying to conceive will find, after investigations, that she may have a condition called polycystic ovary syndrome that is thought to affect up to one in a hundred women.
As it occurs because of a problem with ovulation, it is seen in women of child bearing age and is often only detected after attempts to get pregnant have failed.
What Is Polycystic Ovary Syndrome?
When a woman ovulates the egg is prepared for and released by a follicle on the ovary. In polycystic ovaries the follicles prepare the eggs for release but do not let go of them so each cycle another follicle enlarges containing an egg that isn't released. Over a period of time the ovaries can contain many of these follicles, which look like small fluid filled pouches (cysts).
Signs & Symptoms
The main symptoms of this syndrome are irregular periods. This may be due to the egg not being released and the uterine lining being unsure when to shed its excess blood supply.Many women find they have higher masculinity detail such as thicker darker facial hair and more body hair on the limbs.
It is also common for these women to become overweight as the insulin in the body is not utilised effectively and unused sugar levels are stored as fatty deposits around the body. Acne is also a common feature, particularly that found on the facial area.
As few eggs are being released, many sufferers of polycystic ovary syndrome have trouble conceiving and many need to have some degree of fertility treatment to overcome this problem.
As this syndrome is a disorder of the endocrine (hormonal system), so too are the associated symptoms.
This condition may be diagnosed using blood tests that check the hormone levels in the body, but can also be seen on an ultrasound scan as the ovaries tend to be slightly bigger than normal and the fluid filled pouches are quite clearly noticeable.
Causes of Polycystic Ovary Syndrome
Polycystic ovaries occur as the male hormones in the female body are greater than normal. The reason for this is still unclear but genetics, obesity and diabetes are all thought to be contributory factors.
Treatments For Polycystic Ovary Syndrome.
Low fat and low sugar diets are essential in the prevention of this disorder, but if it has already been diagnosed there are several hormonal medications that may be suggested, some in tablet form others as an injection.
The variety of these types of drugs is quite extensive and detailed discussion with your specialist will be needed to determine which course of treatment is the best option for you. The results of the blood tests will help to decide which medications are the most suited to your needs also.
It is possible that a surgical treatment may be offered during which a telescope is inserted into the abdomen around the site of the navel. A supplementary instrument is also inserted which can apply electrical current to the ovaries under controlled application. The mechanism of this action is not fully understood but it is thought to be linked to the amount of male hormones contained and released in the ovary, and their reduction.
Along with these treatments it is possible for the excessive body hair to be bleached or removed and acne can be treated with a number of preparations from the chemists or with a prescription.
Polycystic ovary syndrome is a fairly common condition and one of the leading causes of female fertility problems. It can be treated but may not be curable in some cases.
You might also like...