Safe Weight Loss For Women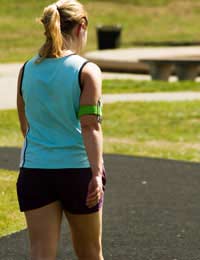 Most women will have chosen to diet of alter their eating habits at some time in their life, but often the diets selected may be dangerous or inappropriate to the person's needs.For many people simply cutting down, altering the way in which they prepare the food or by increasing their exercise levels is enough to help them slim, but for some groups of women the time, place and selection of slimming technique is very important.
Methods Of Slimming Safely
There are many ways in which slimming can be achieved safely without having to follow complicated and sometimes dangerous eating plans or take tablets that claim to help shed weight.Portion control and over coming cravings are the best ways in which to reduce the amounts of fats and calories in the diet and achieve some degree of weight loss.
Change the size of your plate – a smaller plate will look fuller and trick the mind into thinking it has had a larger meal.
Take longer preparing the food and spend time enjoying the smell an appearance of the meal before tucking in – this prolongs meal times leaving less time for snacking.
As soon as there are any leftovers, either cover them and put them straight in the fridge for use for another meal, or empty them straight into the bin covering them with something nasty like washing up liquid or pepper.
Eat slowly and allow your taste buds to enjoy the ingredients of the food – allow your brain time to adjust chemical levels in the body which balance blood sugars and also make us feel full.
Drink a large glass of water before your meal – this will help keep you hydrated, distinguish between thirst and hunger and allow you to feel fuller more quickly.
Do not allow yourself to eat late at night.
If You Are Pregnant
Dieting whilst pregnant is not recommended and a healthy eating plan should be undertaken at all times. It is important that you maintain a good level of nutritional intake whilst pregnant in order to ensure the healthy development of your child.
For those who find they are having lots of morning sickness or prolonged episodes, it is important to mention this to your midwife and also to remember to drink plenty of fluids throughout the day.
Following Childbirth
If you have recently given birth and are concerned about the amount of weight you may have put on it is safe to assume that you will consider slimming at some point.For those who are breast-feeding, it is essential that you are eating and drinking enough to withstand the demands of feeding a baby. Slimming is not a healthy option whilst breast-feeding and many women find that this method of feeding is enough to burn calories and cause some degree of weight loss.
For those who insist on trying to lose weight whilst breast-feeding, it is recommended that a specific diet plan is not followed and simple healthy eating takes places. Meals should be regular, often with healthy snacks in between and alcohol should be restricted.
Weight loss is something that should be tackled slowly and confidently and involves making changes that should remain in place for life. There is no point in spending a few weeks or months depriving yourself of food only to put on all the weight when you eat 'normally' again.
Dietary changes should also involve an increase in exercise and healthy eating should be a normal part of your routine, not something that is done for a short during every year and old habits being allowed to slip back into daily life.
You might also like...