What Suggestions Can You Give to Ease PMT?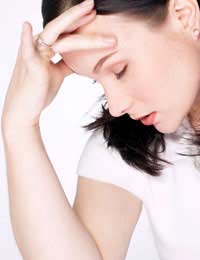 Q.
I was sterilized 18 months ago and the past year I have been suffering extremley badly with PMT. I am also suffering from vaginal discharge before and after my period quite heavily.
The PMT or mood swings have been particularly bad before, during and even after my period to the extent that I can physically feel my heart rate increasing with the anger to simple everyday things. I have also noticed a significant drop in my sex drive. I have recently visited my GP who is usually helpful but on this occasion was told that its just one of them things and that the only solution would be to go on the pill. I do not want to result to this especially since I do not even need contraceptive!
Do you have any suggestions or some more information to hopefully ease my PMT problems!
(Mrs Sarah Lennie, 18 December 2008)

A.
I'm sorry to hear that your GP was not as helpful on your last visit, but all is not lost and there are several things you can do to try and improve your symptoms.
It is not uncommon for women to report worsening symptoms of PMT after having a sterilisation and the research surrounding the reasons why is a little unclear. If you have had your ovaries removed the answer is simpler as you will be experiencing a severe drop in oestrogen, but a 'normal' sterilisation often means the tubes are clipped or tied and the ovaries are not affected.
First of all, if you don't want to go on the pill nobody can force you, although it may be helpful to help keep your hormones on a more even keel and can be used for this (not very often these days as there are other methods that can be used and exhausted first) and not purely as a contraceptive.
I would telephone your GP surgery and ask if there is a service that offers women PMT support as many clinics run sessions specifically for this condition and often there is a specialist nurse who can be very helpful.
If there is no such service in your area, there are still many measures you can take yourself, most of which alter your lifestyle.When you experience mood swings or increased irritability your blood sugar levels may be partially to blame. This can be counteracted by making sure you eat little and often during these times and avoid highly sugared items and opt for carbohydrate and starchy products instead. These things help to keep blood sugar levels more stable and prevent sudden highs followed by lows.
Taking exercise will also help to reduce stress and frustration and can help you sleep better if this a problem too.
Have you tried one of the many supplementary herbal relief treatments that can be bought in the supermarket or chemists? These products contain a combination of essential vitamins, minerals and oils and have been used for many years offering women relief of their symptoms leaving them safe in the knowledge that they are based on natural products and not synthetic ingredients or chemicals.
Meditation and attention to keeping stress low can be extremely useful for lowering the symptoms of PMT and it is definitely worth giving this some consideration as your overall health will also benefit.
If you feel you want to discuss your problem further, why not suggest an appointment with another doctor if all else fails, though the advice may be the same.
You might also like...
I been suffering an iregular period,,but untill nw im not having a period for almost 11 months..is this one of the side effect of squamus metaplasia that they have seen in my papsmear result.
gigi
- 3-Dec-12 @ 6:14 PM