Chronic Migraine: More Than Just a Headache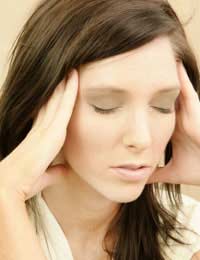 Many people who have a headache say they have a migraine but it's really only a severe headache. Migraine has a set of well accepted symptoms of which head pain is only one. Depending on the type of migraine you have, you may also experience an 'aura' a sensation of flashing lights, excessive yawning, altered perception or just 'feel strange' for several hours before the migraine headache causes pain. Most people who have migraine also feel very sick during an attack, and sometimes actually vomit. It is also common to not be able to cope with bright light or noisy environments. The typical migraine will cause someone to seek out a darkened, quiet room and just lie still.
What is Episodic Migraine?
In the last decade, there has been a lot of discussion about migraine and the International Headache Society has defined several types. Anyone who gets up to 14 migraines every month is defined as having episodic migraine. This can be preceded by an aura, or there may be no aura. Generally, there is a spectrum of migraine from low frequency to high frequency and some people find that their migraines get worse and more frequent over time.
What is Chronic Migraine?
Chronic migraine is a particularly severe form of migraine. The thought of 14 migraines ever month is bad enough, but someone with chronic migraine has more than 15. The average is about 20. That means only 10 migraine-free days each month!
Not surprisingly, chronic migraine has a serious impact on someone's quality of life. Sufferers are often unable to hold down a regular job, they have trouble looking after children and often fear social situations. They never know when a migraine will strike and make them feel very ill and they constantly fear the next attack.
Chronic Migraine in Women
All forms of migraine, including chronic migraine, are more common in women than men. Chronic migraine can leave women exhausted, depressed. It also puts them at much higher risk of more serious mental problems and also physical problems such as heart disease. Rather than being a mild illness, migraine is much more disabling than most people realise.
Treating Migraine
Treating a headache might seem easy – just take a painkiller and lie down. It is rarely as simple as that and although painkillers such as aspirin and non-steroidal anti-inflammatory drugs such as ibuprofen can help, they are usually taken with an anti-nausea drug for maximum relief. For some women, taking any tablets is impossible as they are so sickened that they are unable to swallow even water.
Some specialised migraine drugs called triptans have become available since the late 1980s. These are much more likely to cause side effects than simple painkillers so should be used only when absolutely necessary.
Treatment can Make Chronic Migraine Worse
One of the issues that women and men with chronic migraine face is that taking even simple painkillers for every headache attack means taking too much medication. Taking large quantities of painkillers or triptans can trigger more pain rather than less, and the headaches can actually increase in frequency. When they become daily, chronic migraine has become complicated by overusing medication.
The treatment then required is fairly traumatic. The migraine sufferer must break away from using any medication for a month or so. Usually, their headaches drop back to their original frequency but this may still mean 17 migraines or so in four weeks to cope with without any drugs to help ease the pain.
Medical Advice and Chronic Migraine
If you find that you are experiencing many migraines each month, it is wise to tell your doctor exactly what your symptoms are and how often they recur. Keeping a headache and migraine diary can be very useful. Many GPs tend to underestimate how disabling migraines can be and you need to be persistent, showing them your detailed records. With careful management your migraines may be controlled and, if they aren't, you will need to be referred for more specialist help.
You might also like...