What is Ulcerative Colitis?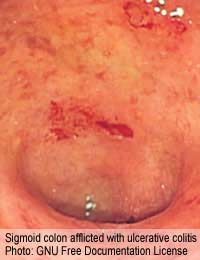 Ulcerative colitis is a disorder of the large bowel in the digestive system. It can affect men and women and usually first occurs in people between the ages of 15 and 30. It results in inflammation in the wall of the colon, which causes bleeding and over production of mucus. This ends up in the waste that is expelled from the body, causing bloody diarrhoea. The tissue damage leads to pain, cramps and debilitation.
Ulcerative colitis is classified as an inflammatory bowel disease (IBD). The other main IBD is Crohn's disease, which is a particularly severe form that is thought may be due to a bacterial infection. However, this has not been proven or accepted generally by the medical community.
How Common Is Ulcerative Colitis?
Ulcerative colitis is a relatively rare condition but 100 000 people in the UK have it at any given time. Estimates say that 0.1% of the population of the USA are affected, with more cases in the northern states. The disease first strikes people when they are young adults but it can then flare up later in life, but long periods of remission with no symptoms are common.
It is thought that ulcerative colitis has some genetic component, as it is far more common in people whose ancestors came from Europe, with the highest incidence seen in people descended from Ashkenazi Jews, who originated in Russia and Eastern Europe.
Effects Of Ulcerative Colitis
Ulcerative colitis can be an extremely painful and debilitating condition and particularly bad flare ups can lead to hospitalisation in rare cases. When diarrhoea becomes relentless and a lot of blood is lost, the body can become very weak and dehydrated. Because eating often stimulates bowel movements, the person affected begins to fear having even a tiny meal and the general pain and illness causes a great loss of appetite.
Someone with an intense flare up of ulcerative colitis can lose weight very quickly. For the most part, however, colitis is a chronic disease that has to be managed throughout life.
For women, ulcerative colitis does not prevent conception, pregnancy or having a healthy child. Many women find that their symptoms disappear during pregnancy but they may then suffer flare-ups after giving birth, triggered by the sudden hormonal changes.
What Causes Ulcerative Colitis?
Since ulcerative colitis is more common in people with an Eastern European/Russian/Jewish ancestry, it is thought that there could be a genetic tendency to develop this condition. Further evidence for this comes from the fact that people with a relative that already has ulcerative colitis are more likely to develop it themselves. Research published in 2008 suggested possible gene markers that were associated with ulcerative colitis but definite genes and a genetic mechanism for the disease have not yet been discovered.
It is likely that ulcerative colitis is also caused by environmental factors, or that these trigger the disease in people with a genetic predisposition. However, although aspects of the diet are likely to be involved, no specific risk factor has been identified. It is known that relapses can be prevented, or mild attacks can be lessened in duration by using probiotics (yoghurts that contain friendly bacteria), a lactose free diet (many people with ulcerative colitis are lactose intolerant) and by eating plenty of fibre but avoiding fresh fruit that contains high amounts of fructose.
There is also a theory that ulcerative colitis develops when the body mounts an immune response to its own tissues in the colon. This could be triggered by an infection with a bacterium or virus that has molecules on its surface that resemble molecules on the surface of colon cells.
Treating Ulcerative Colitis
The main objective when treating someone with a bad flare up of ulcerative colitis, or a first severe attack, is to damp down the body's immune response to allow the lining of the colon to heal up. Once that is achieved, maintenance therapy, including lifestyle modification can be used to prevent a relapse and to keep the body in remission.
Anti-inflammatory drugs such as aminosalicylates and corticosteroids are used in the short term and these can be used with drugs that suppress the immune system and biological therapies such as TNF inhibitors.
A monoclonal antibody treatment called infliximab has been available to treat ulcerative colitis in the USA since 2005 and in Europe since 2006 when other therapies fail to work. In over 70% of cases, a combination of these drugs halts the attack and the symptoms recede, as the colon is able to recover. In some cases, the colitis is so severe that the entire colon needs to be removed. This is a drastic step but can be curative in cases of ulcerative colitis (but not in Crohn's disease).
You might also like...