Female Condoms: the Pros and Cons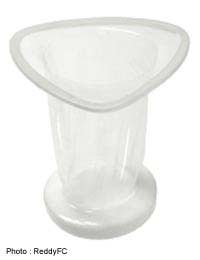 Female condoms are made from polymer materials such as polyurethane and are shaped to fit inside the vagina of a woman during sexual intercourse. The condom itself is slightly under 20cm long and ends in a flexible ring that holds the condom in place at the entrance to the vagina. The female condom is designed to be inserted before sex; its position can then be felt by the male partner and it stays in place during penetrative sex.
Female condoms have been around for over nearly 20 years now, but they have never become very popular in the UK or most of Europe. They are much more widely used in developing countries, where they allow women to take control of their own contraception without having to take the contraceptive pill, which can either be expensive or difficult to get hold of.
Brief History of the Female Condom
The female condom was approved for use by the regulatory agencies in Europe in 1992, a full year before the Food and Drug Administration (FDA) in America approved it. One of the most well known names is Femidom but there are other brands. A new and improved female condom called the FC2 was released in 2007 and has since been approved by regulatory agencies around the world. It is made of a much cheaper material and so costs much less; the World Health Organisation and the United Nations have given it their backing and support its use in the developing world.
Advantages of Female Condoms
Female condoms share some of the advantages of male condoms over the contraceptive pill – as barrier methods of contraception they can protect against sexually transmitted diseases, including HIV, as well as preventing pregnancy. Their success rate is much improved by using a spermicidal lubricant with them, although the female condom comes already lubricated with silicone on the inside.
The female condom also has some advantages compared to the male condom; it can be inserted up to 8 hours before sex, so does not interfere with the spontaneity of the moment; one of the main dislikes associated with male condoms. Women can also share the responsibility of contraception, without needing to take hormone-altering drugs. This is particularly useful for women in a relationship in which the male partner refuses to use condoms but insists on regular sex.
The materials used for the female condoms have been carefully developed so that they don't cause any allergic reaction and they are also thinner than male condoms, so sensitivity is not an issue. For the developing world, another advantage is that they don't have to be stored at a particular temperature, or in special conditions. They come in sealed packs that will last for years.
Disadvantages of Female Condoms
The obvious disadvantage when using female condoms for the first time is the difficulty of inserting them. It does take a bit of practice. Some women can still feel self conscious, particularly with a new partner, as the outside ring of the female condom sits just outside the body and so is obvious and visible. Even more embarrassing are the rude noises that the female condom can make if it is not well lubricated – not very romantic either!
Although female condoms are good for protecting against sexually transmitted diseases and pregnancy, they are not as efficient a contraceptive as the pill, with a higher failure rate.
Female Condoms and the Fight Against HIV
The world AIDS epidemic continues to spread and millions of people are infected in sub-Saharan Africa. The ability of the female condom to prevent the spread of HIV has made it an important tool in the battle against AIDS in southern Africa. Female condoms have been actively given out there since 2004 and countries in Asia and South America have since started to support their use too.
FEMALE HEALTH ISSUES IS FOR SALE.
This website is for sale [more info].
You might also like...