Preventing Deep Vein Thrombosis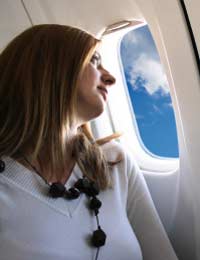 Deep vein thrombosis is a potentially life threatening disorder caused by a blood clot forming in the veins, usually of the lower leg.The blood clots occur for a number of reasons such as immobility, thickening of the blood or because of genetic factors amongst others.
Preventing a Deep Vein Thrombosis
In some cases it may not be totally possible to prevent the occurrence but in many people some precautionary measures or simply by having an awareness of the condition may save your life or someone close to you.
Air Travel
It has become very well documented that flying, especially for long periods, may contribute to clot formation; there are ways to prevent the occurrence in most people.If you are considering going on a long haul flight it may be worth investing in some compression stockings to wear during the flight. These stockings help to maintain the blood flow through the veins by applying pressure encouraging the blood the correct way through the vein and stopping the blood from collecting and pooling in the vein which may help a clot forming.
The stockings can be purchased from chemists and some supermarkets, but it is important to purchase the correct size for your frame. Your GP or practice nurse will be able to measure you and advise you on which size is correct for you.
When possible stand up and stretch your legs whilst flying to encourage circulation, but if not possible, spend a few minutes doing some basic leg, calf, ankle and foot stretched every hour to increase the flow of blood through the vessels.It may also be worthwhile taking an aspirin every day for a few days prior to the flight as this drug helps to keep the blood thin.
Alcohol should be avoided in air travel as it can be dehydrating and cause the blood volume to decrease if fluids are not kept up. When the blood volume drops the heart and vessels must work harder to keep the circulation maintained. Alcohol can also cause drowsiness and this may cause you to remain in the same position for long periods adding to clot formation.Water should be taken in small but frequent quantities to maintain blood volume.
Whilst Pregnant
Deep vein thrombosis is also a risk whilst pregnant and in the days after the birth. This is because nature causes the female body to clot more easily during late pregnancy and after the birth to prevent excessive bleeding. This increase in coagulation potential in the blood may increase the chance of a clot forming.
It is essential to remain active during pregnancy and encourage stretching of the muscles to encourage adequate blood flow and prevent blood from thickening any further.
In the days after delivery, it is extremely important to keep active and carry out stretching exercise and keep blood volume up by drinking plenty of water. This is especially important after a Caesarean delivery as you are more likely to be less mobile that after a normal delivery.
If You Are Going Into Hospital
Most patients, especially surgical patients, will have some degree of pre-assessment before their operation date. During this appointment your general health will be assessed and your suitability to surgery. Your blood may also be taken and screening to find its general clotting status and medications may be prescribed to be taken before your operation is planned.
When going into hospital ask your GP about whether you are suitable to take aspirin as this can help thin your blood. If you are going into hospital for surgery this may not be recommended but it may be fine for use in non-surgical patients.
Remember to try and lose weight and give up smoking before you are admitted, it may help save your life in an emergency situation as well as prevent many complicated and serious illnesses.Always expect to be given compression stocking to wear during your hospital stay and often for some time at home whilst recovering or until you are fully mobile again.
Remember that whilst you are in hospital you are likely to be a lot less mobile than when at home or at work so try to take some extra exercise or ask you nurse or physiotherapist for recommended exercises you can do whilst laying in bed.
Those With a History Of a Previous Thrombosis Or Pulmonary Embolism.
Anyone who has a history of an embolism or deep vein thrombosis should be aware of the effects of their weight, lifestyle choices and fitness levels.The oral contraceptive pill should be avoided in some cases and this should be discussed with your GP or sexual health nurse who may suggest an alternative.
Deep vein thrombosis is a potentially fatal occurrence and may not always be preventable in all cases, however in the majority of people the risks can be lessened by losing weight, stopping smoking, keeping active and performing extra stretching exercises when most at risk.
You might also like...