Why Women are at Risk of Having a Stroke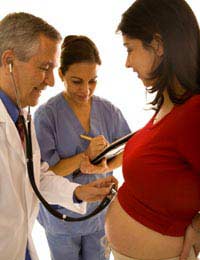 A stroke is a consequence of cardiovascular disease and is caused by the delicate blood vessels of the brain being blocked or rupturing. The blockage may be caused by either a blood clot or because an atheroma has developed which narrows the vessels. Atheroma are caused by the blood vessels becoming blocked usually as a consequence of poor diet, a lack of exercise or smoking.
A stroke can be fatal in many cases or can cause long term damage affecting each individual differently and the resulting brain injury may be slight or severe.Common symptoms can include weakness to one side of the body, paralysis and difficulty with speech and swallowing.
High Blood Pressure
The risk of a stroke in significantly increased if blood pressure is raised. Often this can occur without any symptoms but as the pressure climbs the vessels become damaged and may rupture.
Pregnancy
Many problems can occur during pregnancy including gestational diabetes and high blood pressure which have both been found to increase the risk of suffering from a stroke in later life.
Contraceptive Pill
Taking the contraceptive can increase the risk of a stroke as it has been found to increase the chance of developing a blood clot which can cause a stroke. This risk is further intensified if the woman is over weight or a smoker.This risk has been found to be raised further in those using this form of contraception who also suffer from migraines.
Age
The risk of a stroke increases with age and as we age the arteries become more clogged up with substances such as cholesterol. It is also common for the arteries to harden while this occurs increasing the risk further.
Genetics
It has recently been found that women are at a much greater risk of inheriting a predisposition to stroke than men, so it is important that any woman who has a strong family history of stroke pay more attention to the risk factors and try and lower their risk; they should also have their blood pressure checked regularly.These studies are continuing to assess the risk in greater detail.
Polycystic Ovary Syndrome
Women who have polycystic ovary syndrome are at a greater risk of developing a condition called metabolic syndrome which is a term given when a person suffers from a collection of conditions such as diabetes, hypertension or obesity. Recent studies have shown that those with metabolic syndrome seem to be at a greater risk of suffering from a stroke.
Hormone Replacement Therapy
The use of HRT has fallen in recent years as experts are becoming more aware of the associated risks and weigh these up against the potential benefits. These risks include the chance of stroke. Although studies have predominantly been carried out overseas, the results do show an increased risk with long term use of HRT especially in those over the age of 65. Fortunately in the UK, HRT is very rarely given long term anymore.
Anyone is at risk of a stroke and by taking certain measures and making sensible lifestyle choices, we can all decrease our risk.
You might also like...