Women's Heart Attacks May Feel Different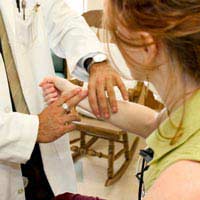 Although it is now well known that women after the menopause are just as likely to suffer from cardiovascular disease and have heart attacks and strokes as men, recognising a potentially fatal heart attack can still be a problem. Many people, including doctors who don't specialise in cardiology, assume that some of the symptoms that women present with when they are having a heart attack are actually caused by something less serious.
We still have the image of a middle aged man clutching his chest, experiencing a pressing pain there and down his left arm and collapsing. This also happens in some women, but in a significant number of others, the symptoms can be very different. This can mean in a delay in giving the necessary life saving treatment and any women die of a heart attack every year when this could have been avoided.
Symptoms of heart attacks in women
Chest pain can occur but it is more likely to be felt as referred pain. This is pain felt in another part of the body, such as the back, or in both arms, not just the left one. The pain that women experience tends to be a deep throbbing pain or a severe chest ache, rather than a sharp or crushing pain. Other symptoms include not being able to catch your breath, feeling clammy and sweaty for no reason, feeling dizzy, having palpitations, swollen ankles and nausea. Women having quite serious heart attacks can also find they feel very anxious – and this is their main symptom.
It is easy to see why dizziness, clamminess, anxiety and breathlessness could be confused for a panic attack and many women are sent home from an emergency appointment to go back to their GP to be assessed for anxiety – only to succumb a few hours later to a massive and fatal heart attack. About half of the deaths due to heart attacks that occur in the 40 to 60 age group happen in women and heart attacks kill as many women in this age group as breast cancer each year.
Raising Awareness of Women's Heart Attack Symptoms
In order to make more people aware of the heart attack symptoms that can affect women, one of the 'internet chain letter' stories has been circulating in the past year. Whether this is a true story or not doesn't really matter – it gives a personal insight into a female heart attack that has been read by millions of people. The women at the centre of the story is sitting watching TV at home alone when she feels extremely anxious, cold but sweaty and quite nauseous. She then experiences a strange sensation which travels up her body, which she feels mainly in her back. This later is attributed to spasms in her main body artery, the aorta.
She is sufficiently worried to call the emergency services who advise her to get to her front door if she can and unlock it and then lie down – which she does and then loses consciousness. Nevertheless, her prompt actions mean that a paramedic ambulance is there within the next few minutes; they open the door and start treating her immediately, so she survives to tell her experiences.
Calling for Help
If you or a woman you knows has any of the symptoms mentioned, it is better to get emergency medical help straight away so that life-saving treatment can be started. Hospital emergency departments now have blood tests that can detect raised levels of blood markers, such as the enzymes released when heart muscle is damaged. A simple blood test can show if the symptoms are indicating a heart attack or not, so avoiding a delay that could be fatal.
You might also like...