The Hormone Implant Explained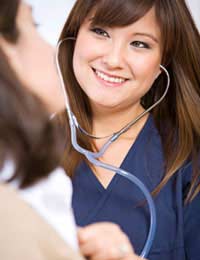 For many women who are seeking a suitable form of contraception, the options offered can seem vast and confusing.
Birth control methods have evolved dramatically over the past forty years, and women now have more choice than ever before so it is easier to find a method that suits their needs.
What Is The Hormone Implant?
The hormone implant is a small device that is inserted under the skin and can be used as a form of contraception, or as a method of receiving hormone replacement therapy.
The Hormone Implant for Contraception
When a hormone implant is used for contraceptive purposes, it is normally situated on the inner side of the upper arm. Roughly 4 cm in length and just a few millimetres wide, it contains a synthetic form of the hormone called progesterone, which is released slowly into the blood stream.
This hormone helps to prevent eggs being released from the ovaries, known as ovulation, and also thickens the cervical mucus stopping any sperm from getting through into the uterus. These two mechanisms prevent pregnancy.
It is usually given in the arm that is not the most dominant to the person, for example a left-handed woman will normally be offered the implant in the right arm. The procedure for insertion may require the use of a local anaesthetic and is given using sterile equipment.
What are the Benefits of Using this Method?
One of the biggest benefits of selecting this form of birth control includes its long term ability of providing contraception. The implant can stay in situ for up to three years (providing it is not rejected by the body, though this is very rare) making it perfect for those who are sure they do not want to start a family during this time.
It can be removed before the three years have passed, or another implant inserted after this time.It starts working almost immediately and fertility returns back to normal soon after it has been removed.
For those who have tried other methods such as the oral contraceptive pill and often did not remember to take the pill at the same time every day, it is ideal as the only time fact that has to be remembered is to have a new implant inserted after the three years.It is also thought that it may have beneficial effects protecting against the development of cancer of the uterus and has been found to lower period pain.
Are There Any Disadvantages?
Some women have experienced irregular bleeding patterns whilst using the implant, and periods may become more prolonged, lighter or have intermittent spotting; this normally lessens after the first year of use.
There is also a small chance the implant may be rejected by the body, in which case an alternative method of contraception must be used.
After insertion, there may be some localised swelling or bruising to the site, but this will disappear after a few days and is not serious.
Side-effects can include a small degree of water retention, nausea and headaches, which normally settle after the first few months; if these are severe or prolonged, it may be advisable to find another form of contraception.
Cautions
The hormone implant must not be used in those with liver disease or breast cancer.If there is any unexplained irregular bleeding or passing of clots or tissue before insertion, this must be investigated before the implant is offered.
The implant does not provide any protection against sexually transmitted infections, and must be inserted between the first and fifth day of the menstrual cycle.
As with many forms of contraception, certain medications that are taken at the same time as using the implant might interfere with its effectiveness. Always ask the doctor or pharmacist whether a prescription given has any affect on the implant.
The hormone implant is a very safe and effective form of contraception. It has many benefits and can be used by most women. Any side-effects experienced should settle down within the first few months of use.
You might also like...
Hi , I have the implant in 3 years in January, I have notice in the last year and a half hair growth on my chest and back and the side of my face the hair is fine black hair and it is starting to be very noticeable. I got the bar in as me and my boyfriend are not ready to start a family . I need advice on what should I do? Take it out if so which other method would be the best for me?
am trying for a child,what do i do?
blessing
- 14-Aug-12 @ 10:40 PM