Treating Genital Herpes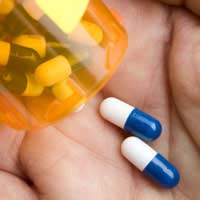 A sexually transmitted infection, genital herpes is developed by the transmission of the herpes simplex virus type 1 or most commonly type 2. The type 2 virus is more common in women than in men.It can be transmitted from the genitals, the rectum, fingers or mouth.
How Do You Get Genital Herpes?
The virus enters the body through breaks in the skin. These can be tiny nicks in the skin surface that the person may not even be aware of or through actual sores.It can stay in the body for many years without causing a problem and is not thought to be infectious during this time; it can also cause an instant flare up of any possible symptoms.
Signs & Symptoms
Quite often there are no symptoms at all and people can live with the virus in their body for many years and be unaware of it. In some people though itching, burning and general feelings of being unwell can present along with the development of small blister type lesions around the vulva, rectum, mouth or wherever has been exposed to the virus.
Treating Genital Herpes
The symptoms of genital herpes can be treated but unfortunately once the virus has entered the body there is no way of ever getting rid of it. It is important to be tested for the virus if you think you are at risk. These tests can be carried out by your GP, sexual health nurse or your local genitourinary medicine clinic.
The test will usually involve a genital examination and a swab to be taken. The swab will normally be taken of the fluid in a blister if there are any so there may be some discomfort while the sac is pierced to allow access to the fluid.
If you receive a positive result, you will probably be prescribed antiviral tablet, which should be taken for five days during a flare up.It is vital to tell your healthcare provider if you are pregnant or breastfeeding.
Cold compresses can be used to soothe the area during a flare up and the pack should be wrapped in a cotton covering before application to prevent ice burns. Discard the covering and the pack after use to prevent any possibility of cross infection.
Wear loose clothing to reduce the irritation and burning and try and keep the area clean and dry.
Preventing Genital Herpes
The spread of genital herpes can be reduced by using condoms. Avoid sex if you or your partner have any open sores around the genitals and you decide not to use protection.If you find that sex is uncomfortable and causes a lot of friction it is advised that you use a lubricant to avoid chaffing and possible abrasion to the skin.
Genital herpes is a complex viral infection that can stay in the system for many years without causing any problems. However during a break out, pain, burning and blister like lesions can arise particularly around the genitals, rectum and mouth.
You might also like...