Conceiving After a Miscarriage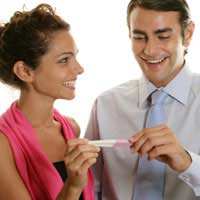 It is not uncommon for a woman to long for another baby immediately after suffering a miscarriage, nor is it uncommon for a couple to decide that the fear of suffering another miscarriage is enough to stop them trying for a baby in the future. It is important to give yourself time to grieve and accept the loss as well as letting the woman's body return to a normal cycle before thinking about whether or not to try for another baby.
There's No Hurry
Some women who have experienced a miscarriage are in a rush to conceive straight away but it is imperative that the couple allow themselves time to come to terms with their loss and reflect on the pregnancy.
Often there is no known cause for the miscarriage, but often drink, drugs and accidents may have been contributory. If you think these might have out your last pregnancy at risk, it is important that these issues are dealt with before another pregnancy is attempted.Try and optimise your own health, which will help to achieve a healthier pregnancy although if genetic factors have played a role in your miscarriage, lifestyle is unlikely to have played a part.
How Long to Wait
In was traditionally advised that a woman wait at least three cycles before trying to conceive following a miscarriage as this allows all bleeding to subside and for the natural fertility cycle to return allowing the couple to determine when they are at their most fertile.Current evidence suggests that there is no need to wait this long and that only one period is necessary before trying.
It can be dangerous to have intercourse immediately following a miscarriage as if the cervix has not fully closed the chances of developing an infection are higher if protection is not used.
If It Happens a Second Time
Unfortunately many couples suffer repeated miscarriages which can be devastating and cause an extremely high level of trauma.This does not necessarily mean that you will never be able to carry a pregnancy to full term, but it might mean that there are certain factors that are preventing these pregnancies from continuing.
After three consecutive miscarriages doctors will offer to intervene and try and establish a reason for the miscarriages. This may mean sending the products off for investigation at a laboratory though this is not guaranteed to produce any evidence as to why the miscarriage occurred.
It can be very beneficial to some couples to share their grief and experiences with others who have also suffered repeated miscarriages. There are a number of groups and organisations that can help provide this type of therapy. Alternatively they can provide advice on where to receive more in depth counselling services.
Coping with a miscarriage can put a serious strain on a relationship as the grieving process affects people in different ways. It is important to overcome this grief before another pregnancy is established as the mother's physical and mental health may affect the development of the baby or mean that the pregnancy in not enjoyed as it could be.
You might also like...