Treating Ovarian Cancer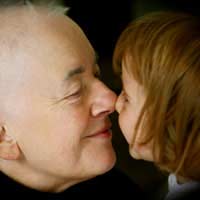 The ovaries are two organs responsible for making and releasing eggs allowing woman to conceive. They are also responsible for oestrogen and progesterone hormone excretion. Like most organs they are at risk of developing cancer, which can be life-threatening. It is normally diagnosed in women who are older than 50 and the actual cause of the cancer is not usually known.
Signs & Symptoms
In the early stages of ovarian cancer there may be no obvious symptoms at all, but if there are any it is likely to be pain in the abdomen which can be localised to whichever ovary is affected or a feeling of the abdomen being full or swollen.
As the cancer develops symptoms become more apparent and can include higher levels of pain, pain during sex, a swollen tummy, irregular bleeding, constipation, back ache, weight gain and an increase in urination frequency.In the later stages appetite may be affected and lethargy and tiredness may occur.
Treatment For Ovarian Cancer
After the official diagnosis has been made the various treatment options will be discussed between the patient and their specialist; often it helps to discuss these options with close family members also.
The treatment available depends on the stage of the cancer, the size and location of the tumour, the patient's medical history and also to some degree the services offered by your healthcare provider. Each person's needs will be different and a treatment plan will be tailored to each individuals requirements.
The typical treatments available are usually surgery, radiotherapy and chemotherapy and often a combination of these treatments will be needed.
Surgery For Ovarian Cancer
Surgery for this type of cancer usually includes the removal of not only the affected ovary, but also the uterus, cervix, fallopian tubes and other ovary as well. It is important to make sure that all of the possible cancer has been removed so these organs that are in such close proximity to the ovary are often removed as a precautionary measure.
It is not uncommon for a sample of the omentum, which is a protective layer of fat the shields the organs from damage and acts as an insulator, to be taken as well. During the surgery, which involves an incision to the abdomen to be made, the surgeon will assess whether your other organs have been affected and may take a biopsy of the tissue or request the opinion of another type of surgeon who specialises in bowel surgery form example.
Chemotherapy
Chemotherapy is often required after surgery, and sometimes a further surgery is carried out once the chemotherapy has had a chance to shrink and other tumours in the body.It usually involves highly powerful and toxic drugs being introduced to the bloodstream via a vein. The drugs are most often given in 6 - 12 doses daily every 3 - 4 weeks. They can be given over 3 hours or more slowly. The duration that they are given over will determine whether you can be treated in the clinic or as an in-patient.
Some people react very badly to these powerful drugs and can feel very unwell, whilst others are affected much less. To measure the effectiveness of the chemotherapy routine blood tests and scans are often carried out to see if the tumour has reduced in size.
Radiotherapy
Radiotherapy can be given to try and eliminate the tumour or in advanced cases, shrink it slightly so that life can be prolonged.
It involves attending the hospital so that a machine can administer the radiotherapy to the exact site of the cancer saving healthy tissue from damage. The treatment doesn't take very long and is not painful and carries no risk to those around you.
There is a chance that some side-effects can develop and these may include nausea and vomiting and an increase in the desire to urinate. Changes in bowel and bladder habits can also change, sometimes long term.
Those who have ovarian cancer will have their treatment plan individualised to ensure the best success at overcoming the disease. Those who are found to have advanced ovarian cancer may not be able to be totally cured, but the quality and length of life can often be prolonged.
Always make sure that you understand your treatment by having thorough discussion with your specialist. For those who are having trouble coping with their treatment there are many supportive associations that can help you through these difficult experiences. Speak to your doctor to find out which of these services are available to you.
You might also like...