Why Do I Need A Hysteroscopy?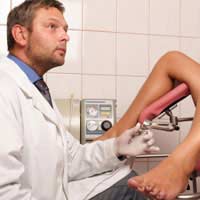 A hysteroscopy is a diagnostic procedure carried out to try and determine why a woman is having exceptionally heavy periods, abnormal bleeding or unexplained post-menopausal bleeding.
Why Is It Performed?
If you have any of the symptoms mentioned above it may be possible to find the cause. Possible causes can include:
infection
polyps (small tag-like growths on the inside of your womb)
tumours (possibly of cancerous origin)
fibroids (larger tougher tissue growths that stem from the uterine tissues)
retained tissues following a miscarriage or termination or possibly that some of the membranes around the placenta have not been ejected following childbirth.
It may be that your heavy bleeding is attributed to the size and shape of your womb which although not serious can cause possible complications such as carrying a healthy pregnancy.Some of these conditions are more serious than others, or it may be that no apparent reason can be detected at all.
How Is It Performed?
Every hospital or clinic will have their own methods of carrying out the procedure. Some offer flexible equipment that allows for the procedure to be carried out in the clinic setting whilst others will require a visit to the operating theatre, though it is usually performed as a day case unless there are complications or you have underlying medical conditions.Local anaesthetic can be offered or a general if required or preferred though this will mean you must go to theatre instead of the clinic.
If a local anaesthetic is given you can return home more quickly after the procedure and will often be able to watch the examination on a television screen if you wish.
Your legs will normally be placed in stirrups and the cervix will be carefully and slowly dilated to allow access for the hysteroscope. The uterus will be filled with a fluid (normally saline) and the telescope introduced. The surgeon (or sometimes specially trained nurse practitioner) will assess the uterine cavity and look for any abnormalities. He or she will also examine your cervical canal and also the entrances to your fallopian tubes.
It is common for a tissue sample to be obtained and sent for analysis to find out if the cells contain any abnormalities not seen by the naked eye.The instrument and fluid are removed from the cavity and a sanitary towel will be placed.
It is normal to suffer from a small amount of bleeding following the procedure but this will subside within a week. It is also common to feel some mild discomfort after the procedure often likened to period pain but again this will ease with time; if either continues, please seek advice from your doctor.Over the counter pain relief will often be adequate for use at home.
If tissue samples have been taken the results are usually available within 6 weeks and your doctor will discuss these with you.A hysteroscopy is a common diagnostic procedure carried out for a number of reasons, some serious others easily treatable.If you have any worries please speak to your nurse or doctor before anaesthetic is given.
You might also like...