About Cervical Smear Tests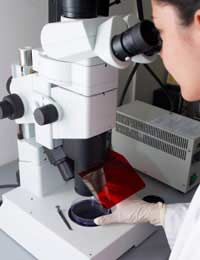 Any woman in the UK who is over the age of 25, especially those who are sexually active will be required to attend a cervical smear test at least every three years during their adulthood and until they are 65 years.
The test is performed as a way of screening for changes in the cells of the cervix as a way of detecting potential cancerous growths that may occur.
How Are They Carried Out?
Cervical smear tests can be carried out in a GP surgery, a hospital or in an out-patient clinic. They can be taken by nurses or doctors and each patient will be able to request who does their smear if they wish.The test will require the practitioner to take a look at the cervix and examine for obvious abnormalities. Following this a small instrument is used to obtain cells from the cervix which can then be sent for analysis at a laboratory.During the procedure, an instrument called a speculum may be used to open the vagina and separate the vaginal walls allowing the nurse or doctor to visualise the cervix and gain access for the cell-taking instrument.
Does it Hurt?
Many women will find the procedure uncomfortable and often describe pain but the actual method of obtaining the cells shouldn't cause any pain. It is often the mental anticipation of the test that causes women to tense their muscles making it harder for the vagina to open.
Most patients will be fine immediately after the procedure, with a small minority experiencing a very small amount of bleeding caused by the cervix being in contact with the instrument that gathers the cells, but this subsides almost straight afterwards.
How Long do the Results Take?
The results usually take about 6 weeks to be sent to you. Often you will receive notification in the post or sometimes you will receive the result over the telephone.In most cases the result will show that the cervix is normal and healthy and another test will be scheduled in three years time whilst other results may warrant further investigation or repeat testing.
What Happens if the Result Shows Unhealthy Cells?
Plenty of women are told that they must attend a second appointment for a smear. This is nothing to worry about at this stage and is often because too few cells were obtained the first time to run a sufficient screen on.
However a small number of women will be told that a more detailed examination will be needed in order to rule out and possible abnormalities and an appointment for a procedure called a colposcopy will be common.Again this does not necessarily mean there are any cancerous or pre-cancerous cells apparent but that a further check is needed.
Cervical smear tests are not the most pleasant experiences but are extremely important in the early detection of possible cancers or other problems or the cervix.The screening schedule is recommended by all health professionals and the department of health and exists as a way of protecting the public from disease.
It is in your best interests to attend your allocated appointment and if you are concerned about a male performing the test, you can request a female doctor or nurse or take a friend or relative with you during the test.
FEMALE HEALTH ISSUES IS FOR SALE.
This website is for sale [more info].
You might also like...
Since the publication of this article, the NHS has since updated their information regarding this screening programme and are also looking to incorporate further changes. Some of the recommendations from parliamentary committee proceedings on cervical screening have advised that the risks and harms (as well as the benefits) of this screening be publicised as well as the fundamental principles of informed consent which is a fundamental conner stone of Human Rights principles and legislation.
Apocalyptic Queen
- 22-Feb-16 @ 5:12 PM