Why Are Cervical Smears Necessary?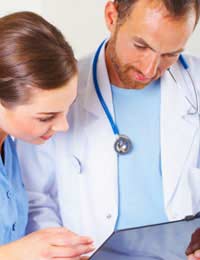 Cervical smears are a procedure carried out to try and screen for changes in the cervical cells that may lead to cancer. It is sometimes called the Pap test as most of the cervical cancers are related to the human papilloma virus, which is a form of sexually transmitted infection.
What Is The Cervix?
The cervix is the organ that allows for passage of a baby from the womb to the vagina during delivery. Most of the time it is closed but it should dilate during labour. It can also be dilated by a doctor to gain access to the uterine cavity for examination or operation.
Unfortunately the cervix is also a source of possible cancer and it is now requested that women should attend a three-yearly test to ensure the cells haven't changed in any way.
Who Should Have a Smear?
It is recommended that all women between the ages of 20 and 64 attend this screening service. There is a large debate about the facility being offered to younger women as the younger age groups are now more sexually active and at more risk of sexually transmitted infections. The decision as to lowering the age bracket is still being discussed.
For those women who have had their cervix removed, usually during a hysterectomy the vault of the vagina can still be tested for abnormal cells and it is recommended that you still attend these appointments.Smear tests are best performed in the middle of your menstrual cycle (about 10 -14 days after your period) as the cells of the cervix are more plentiful and easy to remove.
What To Expect When Having a Smear
Please do not have intercourse in the 24 hours before your smear or use any vaginal products such as lubricants. For those using regular pessaries, refrain from administering one the day of your smear.Your smear test can be carried out by a doctor or a trained nurse.
The procedure involves an instrument being placed into the vagina, which opens up the walls of the vagina allowing access to the cervix. A small spatula type instrument, or very small brush is inserted with its tip resting in the small opening at the centre of the cervix. The spatula or brush is swept round the circumference of the smear and fixed in fluid and sent away for analysis. Old tests required the sample to be smeared onto a glass plate and fixed with a special fluid but this is not commonly practiced anymore.
Please request a female practitioner if you want one long before the appointment so provisions or an appropriate appointment can be sent to you.
What Is Being Looked For?
Women commonly believe that only cancerous cells are being looked for from a smear sample. This is not true. The test can detect changes in cells long before cancer develops and this can be treated as a precautionary event.
What Happens Next?
Your results should be with you within 6 weeks. If you haven't received your result, please do ring your GP and chase it up.For those who receive a result showing no apparent abnormalities, it is not necessary to undergo any further investigation until your next smear in three years time unless you have a reason.
These reasons can include pain during intercourse, intermittent bleeding, a change in discharge or other gynaecological symptoms. This does not mean you may have cancer of the cervix, it simply means that your doctor may wish to re-examine you whilst carrying out an assessment of your symptoms.
For those who have been told that there are some abnormalities, you may be sent for a repeat test or a procedure called a colposcopy which enables the doctor to inspect your cervix more closely and take a better sample.
A cervical smear is a test carried out to detect cell changes of the cervix. It may be uncomfortable but it can be a lifesaving event.
You might also like...