Do Women Get High Cholesterol?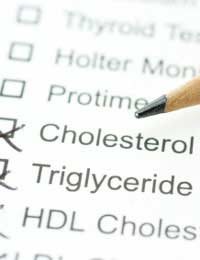 Conditions such as high blood pressure and high cholesterol, or hypercholesterolemia, to give it its correct medical term, are more common in women that most people think. Although women are protected from cardiovascular disease to some extent by their hormones, this only lasts as long as they are having regular periods. As soon as they pass through the menopause, they are just as at risk of heart attacks and strokes as men of the same age.
High cholesterol is usually a result of a diet high in saturated fats, and indicates a less than active lifestyle. Making lifestyle changes can therefore make a big difference, but if that doesn't lower your cholesterol to the correct level, medical therapy with statins is usually successful.
The Two Major Types of Cholesterol
The terms 'bad' cholesterol and 'good' cholesterol are used quite often, but what do they mean? Good cholesterol is used to describe high density lipoprotein cholesterol. This is cholesterol that contains a lot of protein and only a little fat in each of its molecules. HDL cholesterol takes cholesterol out of the blood and takes it to the liver to be broken down. Lots of exercise can increase your levels of HDL cholesterol, and this lowers your risk of heart disease. The good news for women is that, generally, they tend to have higher levels of HDL cholesterol than men.
'Bad' cholesterol is low density lipoprotein. These molecules are made up mostly of fat and their protein component is much smaller. This is the major type of cholesterol that circulates in the blood and, if there is too much of it, it clogs together and starts to form the fatty plaques on the inside of arteries; the start of atherosclerosis, or hardening of the arteries.
The Important HDL to LDL Ratio
One of the measures that doctors use to assess your risk of heart attacks and strokes is to measure both types of cholesterol in your blood and look at the ratio of the two. If you have a low total cholesterol to HDL cholesterol ratio, that is the best result to have and this is common in younger women. As you get older, however, the ratio changes, particularly if you eat a diet high in red meat, full fat dairy products and rich convenience foods such as chocolate and pastries – foods well known as female delicacies!
Other Types of Cholesterol
You also have some different types of cholesterol that only make up a small percentage of the total cholesterol in your blood. Very low density lipoproteins are also sometimes called chylomicrons – these take useful fats to the tissues where they are needed.
Lowering Your Cholesterol
A simple blood test can tell you if you do have high cholesterol and then you can take action. If you are only just over the threshold, it is a sensible first move to take a few months to see if you can lower the level of LDL cholesterol and increase your HDL cholesterol levels by taking more exercise, losing a bit of weight and eating more fresh fruits and vegetables while cutting down on saturated fats. If this doesn't work, or if your cholesterol level is very high, it is reassuring to know that statins are one of the safer drugs that are around for chronic health conditions. They have some side effect in some people, but generally their benefits on reducing cardiovascular risk outweigh any disadvantages.
You might also like...