Advice & Tips on Giving Up Smoking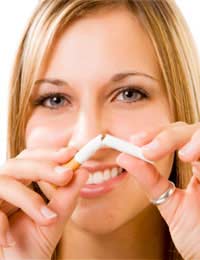 Any smoker will recognise how hard it is to kick the habit, but with so many nicotine replacement therapies and these hints and tips it should be made slightly easier. Giving up smoking will always require some degree of willpower and there is no method that can substitute an iron will but they may be able to take the edge off your cravings.
Before You Give Up
In the days leading up to giving up smoking, make sure you have all the adequate provisions you think you will need.
It is always handy to have plenty of chewing gum or other substitutes nearby in frequent supply.
Keep your last few cigarette ends in an ashtray and add a few drops of water. When you feel the urge to light a cigarette, breathe in the smell of the ashtray to try and deter you; it will smell so bad that it should put you off.
When you wake in the morning, delay the time of your first cigarette for a longer period each day, this way your early morning 'fix' will become less noticeable.
Get rid of any lighters or matches one by one making it harder for you to find one which will postpone the next cigarette. Do not be tempted to purchase any replacements.
Writing down all the reasons to give up and keeping the document handy will help to remember the reasons why you are giving up.
If you are a parent, imagine telling your children that you are suffering from a fatal smoking related illness; this is almost certain to make you think twice.
Give your house a good spring clean; wash all your clothes, bedding, curtains and upholstery and enjoy your newly discovered fresh home that has taken a lot of hard work that will be spoiled as soon as you light up again.
When You Have Taken The Plunge
Throw away any materials associated with smoking.
Tell your friends that you have given up and ask them not to smoke in front of you if you think this will help. Preferably ask a few friends to give up at the same time.
Some people keep the money they would normally spend on tobacco products in a safe place so they notice the financial gain whilst others find this is not a plausible method so it may be useful to promise your self a treat at the end of every month that you wouldn't normally be able to afford, or to donate some money to your favourite charity.
With your new found fresh breath and positive attitude why not join a gym, go and get a good polish at the dentists or get your hair done.
You will also find your skin improves over time so why not treat yourself to some new skin care products as a reward.
Whenever you feel a craving read the list of reasons why you wanted to give up in the first place.
Buy a 'stress ball', take up knitting or some other pastime that you can rely on to get you through your cravings.
If you usually smoke after a meal or in the evenings find other activities that be used in its place. Go to the cinema or other places where smoking is forbidden.
Your sense of taste will eventually become a lot more evident when you have given up smoking so why not try learning some new recipes or enrolling on a cookery course so you can gain the maximum benefits when it does change.
There are many things that you can do to help you give up smoking but the most positive thing you can do is to remain positive and have a deep belief that you can achieve it. Make plans for the future and do not allow yourself to fail.Making the decision to quit is often the hardest step.
FEMALE HEALTH ISSUES IS FOR SALE.
This website is for sale [more info].
You might also like...