I Had an Ovarian Cyst: A Case Study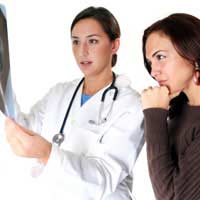 After a year of being ill, Natalie is finally running again and going to the gym three times a week. "I have always kept fit and I have really missed doing training and running but on some days last year, walking to the car was a bit of an effort," she says.
Three months ago, Natalie had keyhole surgery to remove an ovarian cyst on her left ovary. "I am only 28, and I didn't realise that ovarian cysts were so common. Apparently nearly all women get them at some time or another, but as they don't cause any symptoms and they go away on their own, they don't even notice. Unless you have an ultrasound scan, there is no way of knowing a cyst has developed," she explains.
Lower Abdominal Pain
Despite being very fit, just after her 26th birthday, Natalie noticed that her abdomen seemed quite bloated a lot of the time and she had an annoying aching in her lower abdomen. "I put it down to all sorts of things for months – I had a muscle strain, or my diet was bad. I did back and abdomen muscle strengthening exercise and I cut out wheat and then dairy from my diet, but nothing really made a difference. After a few months, it started to get worse and was particularly bad after I had made love with my boyfriend," remembers Natalie.
Tests and a Diagnosis
By now, Natalie was starting to worry so she made an appointment with her doctor for a check up. "She said that it could be a number of things – I may have some endometriosis, or a small hernia – so I was booked in for some tests a few weeks later. These included an ultrasound scan to look at my ovaries and uterus and the cause of the problem was immediately obvious – I had a cyst the size of a small grapefruit on my left ovary. Even I could see that it shouldn't be there!" she says.
The doctor confirmed that it was indeed an ovarian cyst – and a large one. Because Natalie's symptoms had been going on for a few months and getting worse, he recommended that the cyst be removed in an operation. "I was quite scared then but I needed to get this sorted out. At the back of my mind was the worry that it could be ovarian cancer, but the doctors tried their best to reassure me that was very unlikely in someone of my age."
Laparoscopic Surgery
Natalie had to wait about four months for the surgery, which was done using a keyhole method to reduce her recovery time and to cause as little damage and scarring to her abdomen as possible. "While I was waiting for the operation was a very bad time. I broke up with my boyfriend because I didn't think he was being very understanding. I was also feeling much worse – it may have been partly psychological because I knew that I had a large ovarian cyst, but I stopped exercising and some days my lower tummy hurt so much, I couldn't get out of the house," she says.
Finally, the day of the operation came and Natalie spent just two nights in hospital before being allowed back to her parent's house to recover for a couple of weeks. "The good news was that the ovarian cyst was just a cyst – a sac full of fluid – and was not in any way cancerous. That was a great load off my mind," she admits.
Back to Fitness
After a month, she went back for a return visit to the hospital and another ultrasound scan showed that all was well. "I will have to go back once a year for a while just to make sure I don't develop another cyst, or if I do, I can have it treated sooner. Otherwise, I am now concentrating on getting my training back to its usual standard and I have a new boyfriend, so this is going to be a much better year for me," she grins.
You might also like...