I Was Hospitalised for Morning Sickness: A Case Study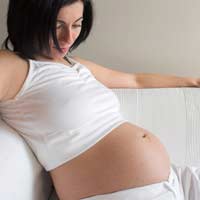 Many people would feel envious of Judy; with a daughter of 3 and a son of just 2 months, she is very slim with no sign of baby weight. "That's because I never had any," she laughs. "I actually lost over a stone in weight when I was pregnant, and so then lost another half a stone when Edward was born. I am now doing the eating for two," she says, looking very happy about it.
Judy suffered a relatively rare, but not exceptionally uncommon condition called hyperemesis gravidarum when she was pregnant. This technical name just means that she had terrible morning sickness – that lasted all day and all night and throughout the nine months she was carrying Edward. "I had the same thing with Claire, but I really hoped that was a one-off, but I was proved wrong," she adds.
Pre Pregnancy Test Sickness
When she had been pregnant the first time, she had experienced nausea and sickness the whole way through but managed to maintain an even weight, and coped by eating small meals every couple of hours. "This time I thought I was prepared but I started to feel very poorly before I even did my positive pregnancy test. I must have thrown up for four mornings and evenings running when I wasn't even two weeks late with my period," she says.
From there, things got worse. Not only was the sickness bad in the morning, it carried on throughout the day and some nights, Judy even woke up a couple of times and was sick into a bowl by her bed. "It was awful – my husband took up residence in the spare room and who could blame him?"
Lack of Sympathy
With a 2-year old to look after, Judy became increasingly isolated in her second pregnancy. "I couldn't go out for fear of being sick – it was happening at least 20 times a day; that's nearly once an hour. I once ordered a supermarket shop to be delivered and I couldn't get to the door to take it in; it was just so humiliating all the time," she remembers.
Several of Judy's friends and her mother-in-law took the attitude that she was making a fuss and was just being silly. "My husband's mother used to go on at him over the phone, saying I needed to pull myself together, and that a bit of fresh air was all I needed. By this time I was also passed the three month point, which everyone thought would bring an improvement, but it didn't," explains Judy.
Two weeks later, Dawn, Judy's mother-in-law came to stay for a few days and only then realise how bad things were. "I think she was very shocked – I think she thought I was lying on the sofa all day, pretending to feel a bit queasy but then she was faced with the harsh reality of being with someone who vomited routinely about twice every hour. It wasn't pleasant."
Warm Weather Brings Problems
During the first four months of her pregnancy, Judy managed to survive on very little food and tiny sips of blackcurrant squash to keep her fluid levels up but when the weather turned warm at the beginning of June, she was in trouble. "My mother-in-law was still here looking after Claire when I collapsed – I had become dehydrated very badly. I was rushed to hospital and put on a drip and the consultant was the first to recognise that I had a real problem. He told me what my condition was called, and told me I wasn't the only case he had ever seen. That made me feel better in itself but then he gave me some anti-nausea medication in the form of suppositories that were safe in pregnancy and I felt like a different person," says Judy.
Hospital Care is Needed
Judy stayed in hospital for 10 days until the medical team got the right dose and combination of safe anti-nausea medicines to help her manage at home more effectively. "I still couldn't eat much but I nibbled toast and could drink more and I was not sick nearly as much. It made the rest of my pregnancy much more bearable," she says.
When Edward was born, the first thing that Judy did when she had given the final push was to feel hungry. "Immediately Edward came out, the nausea stopped – I had been constantly sick in labour too – and I was starving. It was definitely the best tea and toast ever," she smiles.
You might also like...