Stress Incontinence, Learning to Laugh Again: A Case Study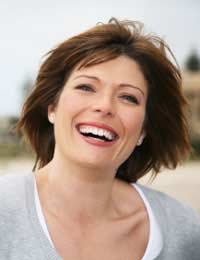 Stress incontinence is quite common; around 1 in 5 women over 40 suffer from it. As Jan explains, "Women like me who have had multiple pregnancies are very prone to it. Pregnancy and childbirth damages the muscles and other tissues that support the bladder and the urethra, the tube that takes the urine out of the body. These are vital for full control of the bladder and if that starts to deteriorate, it can be really embarrassing every time you laugh."
Jan's battle with stress incontinence began after her fifth child was born 15 years ago. "Both my girls were 10lb babies and my three sons were all over 9lbs and that did a lot of damage to my bladder. I had to be really careful about lifting and picking up the children was a nightmare. I was constantly worried that I would lose control," she says.
Self Help for Stress Incontinence
The health visitor looking after Jan at that time was very supportive, as was her GP. "I was given lots of exercises to do at home; the usual pelvic floor exercises that everyone has to do after giving birth. I needed more though as I was continuing to have a real problem," she adds. Jan was sent to a physiotherapist who specialised in using a biofeedback technique. By using small electrode sensors, Jan was able to work on contracting the correct muscles that would really help to support her bladder.
"This actually made a big difference and for several years, I thought I had solved the problem," she remembers.
Problems Recur
"When my fifth child went to secondary school, I wanted to change from part time work to full time and I changed job to become a manager at a garden centre about 5 miles from where we live. This was great and I loved the work," Jan explains. Unfortunately, the job involved some minor lifting as Jan had to do the displays at the front of the garden centre, which changed with each season. Just lifting and dragging pots around was enough to tell Jan that she still had stress incontinence, and that it was getting worse, despite the exercises. "Not only did I dread getting colds and coughing and sneezing, I stopped laughing, which is something I normally do a lot!" she says.
Surgery for Stress Incontinence
"I ended up wearing horrible incontinence pads all the time and I was very stressed out. I changed from really enjoying my job to absolutely hating it and I daren't admit to the people at work what was wrong." The crunch came just before Christmas 5 years ago when two of the other members of staff were openly hostile to Jan, accusing her of always trying to get out of helping with moving the display plants. "I reached breaking point and started sobbing uncontrollably. They took me into the boss and I had to admit the shame of it all," says Jan.
She was surprised by the reaction. Jan's boss Graham told her that his wife had had the same problem for years too and she had just had surgery to help and was finding a new lease of life. "I was taken aback that I had hidden my stress incontinence through embarrassment all this time and as soon as everyone knew, it was fine."
Operation Goes Ahead
Jan took some time off to approach her GP, and was able to use private medical insurance to sort out an operation as quickly as she could. "My husband's work policy covered me too and I was in hospital within three weeks, ready to have the operation," says Jan.
During the surgery, a tiny piece of tape was made into a sling and inserted just under Jan's bladder to support it and to prevent leakage of urine whenever it was put under pressure, such as when Jan laughed, sneezed, or moved or lifted anything. "It was all done through the vagina not the abdomen, so it was not long before I was up and about," says Jan.
Learning to Laugh Again
Six weeks after the operation, after doing her pelvic floor exercises several times every day, Jan noticed a major change. "I was scared at first that it would be temporary, but my stress incontinence seemed to have gone. Now, 4 years later, I am really pleased that I had it done. No more incontinence pads, no more worry and lots of lots of laughing. It's great!" she smiles.
You might also like...