Living With Rheumatoid Arthritis: A Case Study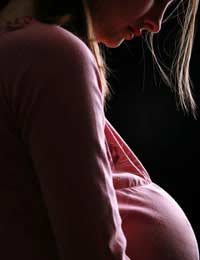 Linda shares excerpts from her pregnancy diary with FemaleHealthIssues. Linda married in April 2004 and she and husband Graham started planning for a baby straight away. As Linda suffers from rheumatoid arthritis, this meant seeing her rheumatologist and planning her drug treatment regime carefully before even thinking about abandoning contraception!
June 2006
"At last, the time is up and we can actually start 'trying' for a baby. I am so excited about having a child of our own. Before I was married leflunomide was the best medication to control my symptoms but it harms an unborn baby and I have had to wait for two years without taking it for the drug to clear out of my system completely."
August 2006
"It's unbearably hot, I have been busy at work, my RA has flared up and I feel terrible. I also started my period yesterday, so another month has gone by and no sign of getting pregnant.
October 14 2006
"I am four days overdue for my period and my breasts feel swollen. Is it too early to buy a pregnancy test?
October 17 2006
"Still no period, so I have bought the test. My RA has been generally not too bad over the last month, but my joints feel really sore today. I waited for Graham to get home from work and then we decided to do the test. It says I'm pregnant!
November 21 2006
"I wish I had never decided to do this. I can't face going into work again today. It is lucky that they have been so understanding as it's about the 10th day I have had off in the last two months. My RA is totally out of control and all my joints feel as though they are on fire. I am tired and can't be bothered with anything and, worst of all, I feel sick all day and spend most of the evening throwing up. Why do they call that morning sickness?
November 28 2006
"Why did I ever complain about the nausea and feeling tired? I had my first appointment with the GP at the antenatal clinic today and she has really scared me. She warned me that many women with RA suffer miscarriages and that I should prepare myself. I have been crying ever since I got home. I looked on the Internet and found a couple of articles about women with RA who have had repeated miscarriages. After all this planning, what will I do if I lose this baby?
December 25 2006
It's Christmas Day today and we spent it with my parents. I am so relieved to have passed the three-month mark in my pregnancy. I am starting to feel less anxious that anything bad will happen but I am still really worried. Graham and I have written a letter to explain how we feel about what she said. I have changed my appointments to a different doctor. My RA has been up and down in the last few weeks but I have felt better in the last few days and have enjoyed going out Christmas shopping.
February 14 2007
Graham took me out for a meal tonight for Valentine's Day –we are now officially 5 months pregnant. I have never felt better, or not for six years at least. I have no RA symptoms at all and am completely drug-free. My rheumatologist has warned me that I will get aches and pains later on, as all pregnant women do, and that my RA might flare up once the baby is born, but for now, I am enjoying getting bigger.
April 14 2007
I finished work today and don't think I will be going back, even though my position will be left open for two years. I also went to the hospital for some blood to be taken to go into a study of why RA seems to go into remission in pregnant women. Who knows, maybe one day there will be a treatment for RA that comes out of that, and I will have contributed!
June 1 2007
I am so big I cannot move and have aching everywhere and a springing sensation in my spine. The baby moves a lot and then not at all…
June 3 2007
I am sitting in hospital holding my precious baby boy. The labour was horrific – far worse than any pain I have ever had with RA. But none of that matters, because Paul is here now…
August 31 2007
Paul is three months old today. It is true, my RA has flared up and I am in agony some days but I am determined to do without drugs to breastfeed Paul. Just looking at him makes it all worthwhile.
You might also like...