Earrings Split My Earlobes: A Case Study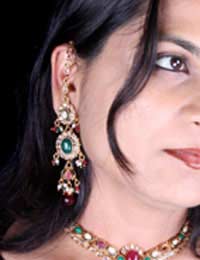 Simran was overjoyed when she got a place at University College London to study Philosophy and was beside herself with excitement at going away from home for the first time. "I suppose, like many girls of Asian ancestry born on the UK, we are raised quite protectively by our families. I love my parents so much and am so grateful for all they have done for me but having the freedom to do what I wanted at last was really fantastic," she grins.
Looking back, now she is a 25-year old and engaged to be married, Simran would have done a few things differently. "I did spend a lot of time in my first year partying! I should have got down to more work and I really had to struggle in the second year but by my third year, I seemed to have things in balance. The major thing that I regret was my obsession with fashion. That left me with a huge student loan to pay off – and a torn earlobe," she says.
Fashion, Parties and Fun
Half way through her second year, Simran, like many Asian girls, favoured very heavy earrings in an ornate Indian-style. "I really loved them and they went with all the clothes around then, I just couldn't get enough of them and was delighted when my cousin brought me some really ornate, heavy real gold ones for my 21 birthday. Unfortunately, after quite a party, I fell into bed at 3am – and forgot to take them off. Next morning, there was blood all over my pillow, I couldn't find one earring and to my horror my left earlobe had split," she remembers.
Earrings and Split Earlobes
The problem that Simran had is not that uncommon in women who wear the types of heavy, long and dangling earrings that she loved. Asian women are particularly prone to it because of the ornate Indian earrings that are so popular with them. But women of all ages and cultures can suffer the same problem – another group that is very prone to earlobe tears are young mothers who have a toddler or baby that pulls at an earring and wrenches it out of the ear.
Repairing the Earlobe
The party and the torn earlobe happened just before the Christmas of Simran's final year at UCL. "Fortunately, my dad was quite sympathetic and he arranged for me to go to a cosmetic surgery clinic. They assessed the damage and carefully stitched the earlobe back together. I didn't have to have a big anaesthetic – just a numbing injection – and I went home later that day. What a relief!" she sighs.
After the procedure, Simran had to take care of her earlobe for about six weeks, using antiseptic solution to stop it getting infected and then massaging it gently to prevent scarring. After six weeks she was able to have her ear pierced again. "But I won't be wearing quite such heavy earrings again now – not even at my wedding. Although my left earlobe looks hardly any different to my right, I don't want to go through that again", she says firmly.
Simran's father was also pleased with the outcome – and glad that Simran has taken steps to avoid a repeat accident. "The cosmetic surgeon was a friend of a friend's family but he was on Harley Street and that tiny operation cost me £800," he explains. In other parts of the UK, earlobe repair may be a little bit cheaper but you can still expect to pay around £600 per earlobe.
You might also like...