I Put Up With Fibroids for Far Too Long: A Case Study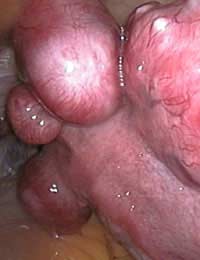 Jameela is looking forward to her 60th birthday in a few weeks. She is planning a big family party and her six children, all now married are coming together with their own young families. "My parents brought me to the UK from Bombay in 1957, when I was only 6 and I had a traditional arranged marriage at the age of 19. My first son, Baahir was born just three weeks before I was 21," she says.
At first, Jameela lived with her husband and son at the house of her husband's parents but, after their third child was born, they moved to their own home, just outside Wolverhampton. "I had three babies in three years and it was hard work but I loved being a mother. My husband was working very hard with his father in the family business and taking part time classes to become a fully fledged accountant, so the family side of things was left to me. I did feel tired, but who wouldn't," she asks.
Tiredness Becomes Worse
Jameela thought it only natural to be tired with three children under four years old and she fully expected to carry on having children as she wanted a large family. "I had two girls and my son, and I really wanted another boy but a couple of years went by and I didn't become pregnant," she says. By this time, Jameela was suffering very heavy periods and her tiredness was very difficult to cope with.
"I went to the doctor and he said I was anaemic but didn't do anything to check out why – he put it down to my vegetarian diet and the fact that I had small children and had had three pregnancies. He gave me iron tablets, which helped quite a bit", she says.
Although she could then cope better with her daily routine, Jameela was aware of a deep pressure in her abdomen and pain at the time of her periods. "I just ignored it really – I had my family to look after. I did turn to food for comfort though and I began to put on weight. This made things worse but I didn't do much to stop myself eating!" she adds.
The Family Grows Up
Within 18 months of having her anaemia treated, Jameela became pregnant again and three more children followed in the next four years. "At the age of 43 my eldest son was married – no arranged marriage for him, but we were all very happy. Even so, my tiredness was now worse than ever. I was also in constant pain and my periods were excessively heavy. I was shopping in the market one day, rushing because we were having a family dinner that evening and my husband's family were coming. Apparently, I just collapsed. I don't remember much, but I woke up in hospital with my son and his wife looking very anxious.
A Hysterectomy is Advised
After two days of tests, an ultrasound examination and an internal examination with an endoscope with Jameela under general anaesthetic, the gynaecologist explained that she had the worst case of fibroids she had ever seen. "I must have first developed them when I was in my twenties and the doctor was amazed that the fibroids had not prevented my last three children!" says Jameela.
If she had been diagnosed earlier, it may have been possible to remove the fibroids in a much less extensive operation. "I had three fibroids inside the womb; the largest was the size of a cricket ball, and three fibroids on the outside, one of them pressing on the blood vessels to my legs. I was, by now, just a few years from the menopause, when the fibroids would have shrunk naturally, but there was too much damage to the womb to do anything by this time. I needed to have a hysterectomy," explains Jameela.
After the Surgery
Two months after her operation, Jameela had recovered from the surgery and felt better than she could ever remember. "As my 45th birthday came, I felt younger than I had when I was 25! I had no more pain, my severe anaemia had been treated, I lost weight and I felt fabulous," she says.
Fifteen years later, as Jameela looks forward to her big party she has the energy to run around after her grandchildren – all ten of them – and to even keep up with the twins who are now four. "I realise now that I should have insisted that the first doctor look into why I was feeling so tired and why I was so anaemic. I could have saved myself a lot of ill health," she concludes.
You might also like...