Backache Was Due to a Prolapsed Womb: A Case Study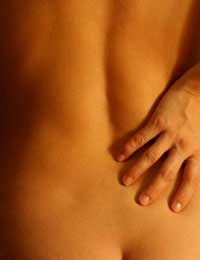 Sarah is hobbling a little at the time of our interview. "I went on a 15 mile walk with my walking group this weekend, and my muscles are suffering today", she laughs. Today, Sarah is a fit, active woman of 56 and is looking forward to a few more happy years as a midwife in her local hospital.
"It was all very different 6 years ago," she says. She was the married to her then husband of 30 years. "We had been to Egypt for our anniversary and I thought it was a wonderful time. We had had our problems over the years, but I thought we had put all that behind us. As I had seen our two daughters off to university, it seemed like a new time, when we could enjoy time together", says Sarah.
Minor Health Problems
For years, Sarah had suffered some stress incontinence and continually bad back ache. It could be annoying at times but she did plenty of pelvic floor exercises and kept fit and tried to ignore her nagging back pain. "As a full time midwife, it is a physical job and having a few aches and pain is nothing when you see women struggling to give birth," she grins.
Married at 21, Sarah had longed for children straight away but her husband had delayed. "I always suspected him of not being completely honest, but I really wanted to trust him. He said he wasn't ready to have children but now I'm not sure..." she says, looking stern. Sarah's minor ill health led her to go off sex when their children were in their teens and they drifted apart physically. "I thought we were happy otherwise and I kept trying to find a different explanation for the way I felt," she remembers.
A Major Life Change
Just after their wonderful holiday in Egypt to celebrate 30 years married, Sarah's husband failed to come home one day. "He had gone away with his job quite often and had been away three nights one week but didn't come home and I hadn't heard from him. The phone rang and I had felt worried in case something was wrong but I was completely unprepared for what I heard," she says. The phone call was from her husband's lover, telling her that her marriage was over. "I could not believe that after 30 years, he was such a coward that he had asked his girlfriend to break the news to me. I will never forgive him for that," she says.
Over the next few weeks, she was in shock but her two daughters were fantastic. Her now ex-husband moved in with his girlfriend, only to be thrown out unceremoniously just months later. "In all the turmoil, I felt bad but didn't expect to feel anything else. The girls were fantastic and rallied round and got me involved in the rambling club and I made loads of new friends. I am not surprised that they still refuse to speak to their father," she says.
A Prolapse is Diagnosed
In her turmoil, Sarah still noticed that her stress incontinence had got worse and she felt greater pain in her back, even though she had taken some time off work and had been doing more exercise. "I knew as a trained nurse that this wasn't normal and something more was going on – so I arranged to see a doctor at the hospital. I suspected fibroids but when the ultrasound scan came back, it proved me wrong – it was a prolapsed uterus," says Sarah. A prolapse happens when part of the womb falls down into the vagina, causing a lump of tissue that presses on veins at the lower part of the abdomen and at the top of the legs.
"The gynaecologist recommended a prolapse repair and I agreed immediately and went into hospital the following November. Somehow, my ex-husband found out and tried to see me – I think he really wishes he could come back, but I never thought of agreeing to that," she says.
A Full Recovery - In Every Way
After Christmas, which her daughter cooked for her mother, her sister and both their boyfriends, Sarah began to feel more like her old self and got fitter, stronger and slimmer. "I am now feeling better than I did 10 years ago and, although I would never have thought this then, I am glad my marriage ended. I have met a wonderful man at the walking club and we spend a lot of good, quality time together. Life is good again!" she laughs.
You might also like...