Breasts - Self Examination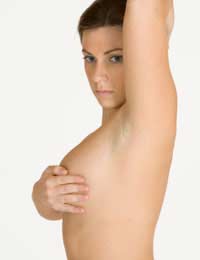 Early detection of breast cancer is imperative to ensure a good chance of survival. Those over 50 years will be offered routine breast screening in the form of mammograms, in addition to this and for those who do not fall into this category is the issue of self-examination.
Why Do We Need To Self-Examine Our Breasts?
Examining your breasts yourself can help to detect any changes in the breast tissue. No-one knows your breasts as well as you do so you will be the best judge of any changes.Any skin discolouration, discharges, sores or lumps will need investigation in order to rule out possible cancers of the breast.
What Are We Looking And Feeling For?
It is important to know what your breasts look like and feel like normally to be able to detect any changes. Parents should educate their daughters from the teenage years of the benefits of spending some time learning about their breasts and being aware of what is normal for them and what is not.
Follow these steps to ensure a thorough examination:
Standing in front of a mirror in a well lit room remove clothing from the upper half of the body.
Grasp your hands together and slowly raise them above your head. Repeat this action three times to see if your nipples both move together and the breasts both have a similar shape throughout.
Look at your side-wards profile and again when bending. Do the breasts both mimic each other in movement and form the same shapes?
Check the skin integrity around the breasts and nipples. Is there any redness, dull patches, discharge or abnormalities?
Following this process it is time to feel the breasts. Keeping the fingers closed and straight, make small circular movements with the palm of your hand.
Starting with the right breast, lift the right arm above your head and make the movements all over the upper part of the breast moving on to examine the underarm.
Following this, check the entire outer circumference of the breast working slowly inwards until the whole breast has been checked, including the nipple area.
Gently squeeze the nipple and check for any discharge.
Repeat the whole process on the left breast using the right hand.
The examination should be performed at least once a month at around the same time during your cycle so the hormonal changes are similar each month. It may not be very comfortable to be carried out just before and during your period as the tissues can be quite sensitive during this time.
You may find it easier to do this test in the bath or shower as part of your cleansing routine; soap can make the skin more slippery and easier to examine.
Causes Of Breast Lumps
If you find a lump in your breast, it does not automatically mean you have a breast tumour; there are a number of reasons why the breast tissue may feel lumpy.
What To Do If You Find a Lump
First of all don't panic, chances are it is harmless, the breast tissue changes with the release of hormones during the menstrual cycle and lumps can come and go.
If at any stage a lump is found, do not try and squeeze it or interfere with it in any way. Make an appointment to see your GP who will carry out a professional examination and make a referral to a specialist if necessary who will probably want to perform more detailed tests.
There is no way of knowing if the lump is definitely cancer without further testing, and many of them turn out to be harmless cysts that can usually be drained or removed easily.It may be worth taking a friend or family member to the GP with as they can be present whilst the breast exam is performed.
Many women will find their breast tissue goes through changes at some point during their life, most of which are not harmful. It is very important to know what your breasts are like normally in order to detect any changes.
Performing a self-examination is the best way of finding any lumps or changes, which can then be treated as needed.
You might also like...